Assessment Updates will be posted on this web-site to: 1) Assess "pre-review" cigars that were not given a rating or score (typically pre-release cigars); 2) Provide numeric ratings to cigars previously assessed prior to the implementation of the numeric scoring system; 3) Provide a re-assessment and re-score of a previously assessed/scored cigar.  Today, we provide a numerical score to the Rocky Patel Vintage 2003 Cameroon.  This was a cigar we assessed a little over a year ago in September,2011.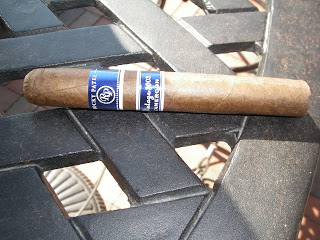 Rocky Patel Vintage 2003 Cameroon
At the 2011 IPCPR Trade Show, Rocky Patel Premium Cigars launched its fourth entry into its Vintage Series.  This one leverages a Cameroon wrapper and is called the Rocky Patel Vintage 2003 Cameroon .  This one proved to be an outstanding release as it finished as our #15 Cigar of 2011.  For 2012, Rocky Patel Premium Cigars announced the Rocky Patel Vintage 2003 Cameroon Special Edition Box-Pressed – a line extension that would add box-press vitolas to the line.  Given the line extension was coming, we felt appropriate to score the original cigar.
For this assessment update, we also sampled the robusto vitola.  While this wasn't the most complex cigar in terms of flavor transitions, this is a cigar loaded with flavor.  It features notes of caramel, natural tobacco, coffee, pepper, and citrus as a part of its flavor profile.   The cigar's flavors are full-bodied and the strength is medium.  The body definitely has an edge over the strength.
The construction of this cigar continues to be flawless – with an excellent burn and excellent draw.
Click here for the original assessment done on this cigar.
Assessment: Memorable
Score: 92