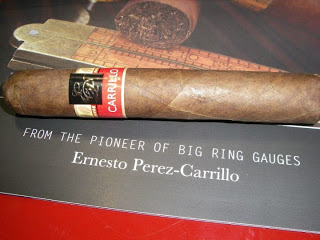 The E.P. Carrillo Cardinal Natural
At the 2012 IPCPR, E.P. Carrillo was showing off a cigar being called "the red label". Some initial information has been released (on Facebook) regarding this cigar. First up the cigar is being called the "E.P. Carrillo Cardinal". Secondly, the cigar is being released in two blends – a natural and a maduro.
The facebook post indicated the cigars will be targeted for a late October shipment. The cigar is described as " It's the most full-bodied and full-flavored cigar from the Godfather of Boutique Cigars".
The "Cardinal" is denoted by the red version of the core E.P. Carrillo logo on the band.
At the time of the show, E.P. Carrillo was not disclosing information on the blend or sizes. We will have more details as they become available.