Assessment Updates will be posted on this web-site to: 1) Assess
"pre-review" cigars that were not given a rating or score (typically
pre-release cigars); 2) Provide numeric ratings to cigars previously
assessed prior to the implementation of the numeric scoring system; 3)
Provide a re-assessment and re-score of a previously assessed/scored
cigar. Today, we re-assess and provide a score to the Tatuaje Avion 11. This was a cigar we assessed a little over a year ago in September, 2011.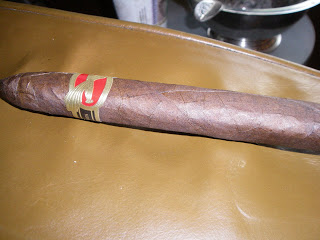 Tatuaje Avion 11 (picture from 2011)
The Avion line is actually a series of annual release vitolas that are based on the Tatuaje Fausto blend. When Fausto was launched at 2011, the core line consisted of a
series of parejos. The Avion Series has thus far been released in box-press perfectos. The Avion 11 was the first of the Avion releases. It was a Perfecto Grande measuring 6 3/4 x 48/52. This year the Avion 12 was released and was a shorter version of the Avion 11 measuring 5 5/8 X 48/5.
In 2011, the Tatuaje Fausto finished as our #20 Cigar of the Year.
When we rank our cigars, we base it on the line of cigars. For that
ranking we did factor in the Avion 11. However, I personally felt the
Avion 11 fell short when compared to the parejos of the core Fausto line. I also felt the smaller Avion 12 version, I out-smoked the Avion 11 significantly. Based on my positive experience with the Avion 12, I felt it would be appropriate to re-visit the Avion 11 and see how it smoked with a year of age.
This Avion 11 I smoked had been in my humidor for a year. When I smoked this Avion 11, I noticed a big difference in the construction attributes of burn and draw. The Avion 11s I had smoked back in 2011 did not have an ideal burn and draw. For the Avion 11 I sampled, the burn and draw performed flawlessly. This helped the Avion 11 score much better than last year.
The flavors of the Avion 11 were a little more developed, but in my opinion – for whatever reason, the Avion 12 still seemed to have a better flavor profile. The Avion 11 seems to have more strength and body than the Avion 12. I assessed the Avion 11 to be full strength and full-bodied (the Avion 12 for the most part is in the medium to full strength/body range).
This smoke of the Avion 11 seemed to be much better, but I'd still reach for the Avion 12 or core Fausto blend first.
Click here for the original assessment of the Avion 11.
Assessment Rating: Nice to Have
Score: 88