Assessment Updates will be posted on this web-site to: 1) Assess "pre-review" cigars that were not given a rating or score (typically pre-release cigars); 2) Provide numeric ratings to cigars previously assessed prior to the implementation of the numeric scoring system; 3) Provide a re-assessment and re-score of a previously assessed/score cigars.  Today, we provide an assessment rating and score to the Pinolero.  This was a cigar we were fortunate enough to smoke a pre-release sample of back in May, 2012.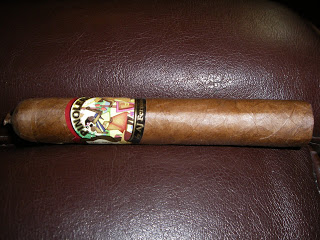 Pinolero by A.J. Fernandez
The Pinolero by A.J. Fernandez was launched at the 2012 IPCPR Trade Show.  It is the second major brand targeted by the brick and mortars by A.J. Fernandez Cigars following the success of the San Lotano line.   The Pinolero is a very different cigar from the San Lotano lines has it has some "Cubanesque" qualities to it.   We were the first online publication to provide a pre-review of the Pinolero back in May, 2012.   Since then, I personally have had the opportunity to smoke several of these and this is truly another winner by superstar blender A.J. Fernandez.
We learned a lot more about the Pinolero at the IPCPR Trade Show.  The cigar features an oily Nicaraguan Sun Grown wrapper over a Nicaraguan binder.  The filler is a combination of Cuban-seed Nicaragua tobacco and A.J. Fernandez "secret" fillers.  The cigar is being launched in six sizes and I followed-up with smoking the 5 x 52 robusto size that matched what I was given for the first write-up.
I wouldn't say the Pinolero smokes exactly like a Cuban, but more along the lines of being "Cubanesque", yet still being true to its Nicaraguan roots.  The flavor profile consists of pepper, cocoa, natural tobacco, and nut.  The post release cigars had a much more mature and developed flavor profile than the original pre-release sample I smoked.  The flavors are medium-bodied.  From a strength perspective, it is also medium, but will kick up to medium to full strength (or even full strength) in several cases.
The cigar is vintage A.J. Fernandez from a construction standpoint.  It has a razor-sharp burn and maintains a solid ash.  The draw is outstanding.
Click here to read our detailed pre-review of the original sample we smoked.  We also have more specs on the product from the IPCPR trade show.
Assessment: Memorable
Score: 93