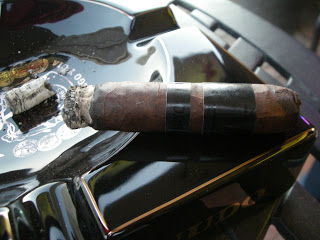 Viaje Skull and Bones M?stery Box-press
Viaje Cigars has begun shipping its seventh batch of its popular Skull and Bones series. This batch is being dubbed the M?stery Series (2012). While the various batches have undergone blend changes throughout the from batch to batch, this batch has the most significant change to date. Viaje president Andre Farkas appeared on the October 27, 2012 edition of Kiss My Ash Radio and announced that for the first time, the Skull and Bones will feature a San Andres Mexican wrapper. Prior to this batch, all of the Skull and Bones cigars were Nicaraguan puros.
The series will feature three vitolas. While not reported in the Farkas interview, one of the vitolas is the Skull and Bones M?stery Vintage which will continue to use the 2011 M?stery blend. One of the vitolas will feature a glow in the dark band – something that has been done with the Fall/Halloween timeframe releases each year.
While Viaje cigars are mostly Nicaraguan puros using Aganorsa tobacco, Farkas has selectively incorporated San Andres wrapper in some other blends – most notably the Viaje Satori 2011 and Viaje Satori 2012.
Here is a summary of the Skull and Bones series:
First Release Cycle (Spring 2010): Black and White
Daisy Cutter: 4 x 54

Second Release Cycle (Fall 2010): Black and White
?: 5 x 54

Third Release Cycle (Spring 2011) Black and Red
WMD (Weapon Mass Destruction): 3 3/4 x 54
MOAB (Massive Ordinance Air Blast or Mother of all Bombs): 4 1/4 x 54 (Torpedo)

Fourth Release Cycle (Summer 2011) Black and Red
Little Boy: 4 1/4 x 52 (Double capped)
Fat Man: 4 1/4 x 56 (Double capped)
Fifth Release Cycle (Fall 2011) Black and White except M?stery Box Press (Black on Black)
M?stery 4 1/2 x 54 (Short Torpedo)
M?stery Box Press 4 1/2 x 54 (Short Torpedo Box-press)
Sixth Release Cycle (Spring 2002) -Mix
WMD (Weapon Mass Destruction) 2012: 3 3/4 x 54 (Black and Red)
MOAB (Massive Ordinance Air Blast or Mother of all Bombs) 2012: 4 1/2 x 54 (Black and White – Short Robusto)
FOAB (Father of all Bombs): 4 1/2 x 56 (Black and White – Short Robusto)
Seventh Release Cycle (Fall 2012 Release)
M?stery (Glow in the Dark bands)
M?stery BP (Box-press)
M?stery Vintage (2011 blend)