Assessment Updates will be posted on this web-site to: 1) Assess "pre-review" cigars that were not given a rating or score (typically pre-release cigars); 2) Provide numeric ratings to cigars previously assessed prior to the implementation of the numeric scoring system; 3) Provide a re-assessment and re-score of a previously assessed/score cigars. Today, we provide an assessment rating and score to the Iconic Leaf Recluse. This was a pre-release cigar we did a pre-review for back in July, 2012.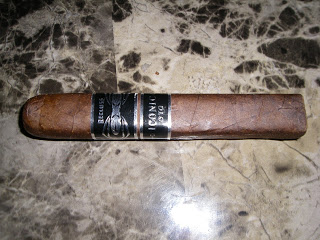 Iconic Leaf Recluse – Robusto
Back in July, we had the opportunity to post one of the first cigar write-ups on the new Iconic Leaf Recluse. At the time, Iconic Leaf Cigars was an unknown company preparing to launch at the 2012 IPCPR. We didn't know much about Iconic Leaf Cigars other than it was founded by "two very well known and well respected legends in the cigar industry" who have chosen to keep their identities private. The blender of the cigar is J.R. Dominguez – whom we interviewed at the 2012 IPCPR Trade Show. As for the Recluse cigar, we learned that this was a cigar that goes through eight fermentation cycles rolled in true entubar fashion. Our experience with the Iconic Leaf Recluse was extremely positive. Now that the cigar has made its way to retailers, the story continues to get better.
Iconic Leaf has taken a very different approach in terms of releasing frontmarks for the Recluse line. They have opted to launch with ten frontmarks – including three patent-pending vitolas known as Kanu series – a kayak shaped vitola. The purpose of the ten frontmarks was to satisfy a wide range of cigar enthusiast's choice. All of the frontmarks are box-pressed except for the 6 x 60 Tarantula vitola – which is a rounded parejo. Today we will focus on the 5 x 52 robusto vitola. When we pre-reviewed the Recluse, we sampled the Toro vitola – and found this to be a similar cigar experience. Some of the other frontmarks have provided different experiences and we will cover them at a later time.
Most of the experience of the pre-review has carried over to the final released product. The flavor profile is outstanding – providing a mix of classic and contemporary flavors. The flavor notes from this cigar include: flavors of caramel, orange peel, red pepper, coffee, and oak. The depth of the flavors are mostly medium to full, but toward the end it moves to full-bodied. The strength balances the flavor very nicely – also providing a medium to full strength cigar before moving into full strength range at the very end.
The construction has proven to be excellent on the robusto – just like the toro. The burn and draw both scored very high and required little maintenance.
Click here for our detailed pre-review of the Iconic Leaf Recluse Toro. As we mentioned, the experience of that cigar reflects the robusto that we scored here.
Assessment: Nice to Have
Score: 92