(Fort Lauderdale, FL) – October 22, 2012: Gurkha Cigar Group, Inc., makers of the super premium cigar brand Gurkha, was recently awarded a prestigious Golden Label Award for the printing, design, innovation and technical execution of the 125th Anniversary cigar band.
The coveted Golden Label Award ceremony was held at the contemporary Vienna Platinum Center in Vienna, Austria, organized by Brigl & Bergmeister, one of the world's leading manufacturers of label and paper products. Out of 12,000 entries, Gurkha reigned highest cigar brand out of all 5 categories. Working in close collaboration with TSO printers (Holland), the Gurkha 125th Anniversary band artwork features a detailed and ornate design, incorporating state of the art printing techniques to emphasize the strong logo and identity of the Gurkha brand.
"We are very honored to receive this award," said Kaizad Hansotia, Chairman of Gurkha Cigar Group. "This is even more special as this year celebrates 125th Anniversary of the Gurkha Cigar. The artwork took over a year to develop, where the goal was to create an intricate design that highlighted the strong tradition and authenticity of the brand".
The Gurkha 125th cigar blend is also an award winner, having recently received the company's highest ever rating of 96' points. The unique blend features an oily Brazilian Cubra wrapper, accompanied by an Ecuadorian, Habano binder and a complex combination of Nicaraguan, Brazilian and Dominican fillers. This intriguing medium bodied cigar encompasses a very smooth and complex taste profile, with flavorful notes of rich tobacco and subtle hints of sweet spice, vanilla and chestnut. After much anticipation, the 125th Anniversary will be shipping to cigar stores nationwide in the coming weeks!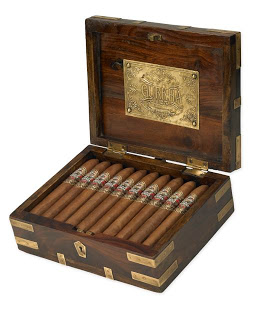 World renowned for their packaging and design, this is the second award that the Gurkha Cigar group has won in 2012 for their design and artwork, having already won the SAPPI European Printing Award for the printing, design and execution of the popular Gurkha 'Royal Challenge' artwork and crest.
Gurkha is one of the most famous brands of luxury hand-made cigars. Having extraordinary quality and premium blends of tobacco, Gurkha is known for limited release and rare tobacco products with outstanding and artistically oriented packaging. Considered the 'Rolls Royce' of cigars, this super premium brand is enjoyed by many of the world's elite including members of royalty, military, leading government officials and celebrities.
More information on Gurkha Cigars can be found on the company's:
Website: www.gurkhacigars.com
Source: This press release was sent from Gurkha Cigars. Cigar Coop will print press releases as a free service to all cigar companies that choose to send Cigar Coop press releases.