Assessment Updates will be posted on this web-site to: 1) Assess "pre-review" cigars that were not given a rating or score (typically pre-release cigars); 2) Provide numeric ratings to cigars previously assessed prior to the implementation of the numeric scoring system; 3) Provide a re-assessment and re-score of previously assessed/score cigars.  Today, we provide a numerical score to the Gurkha Ghost.  This was a cigar we were fortunate enough to smoke a pre-release sample of back in October 2012.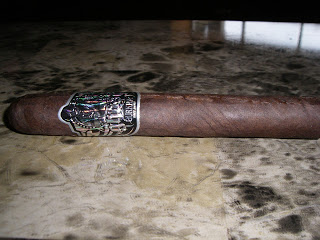 Gurkha Ghost
The Gurkha Ghost was one of three blends released at the 2012 IPCPR Trade Show (joining the Gurkha 125th Anniversary and East India Trading Company Red Witch).  The Ghost is being targeted to brick and mortar retailers and continues in Gurkha's tradition of innovative packaging.   The Ghost features a unique holographic foil wrapper and some of the vitolas will be available in a tube packaging.
For the Ghost, Gurkha teams up with the Abe Flores and the PDR Cigars' factory for the blend.  The cigar has a three country blend consisting of a Brazilian Arapiraca Maduro wrapper,  Dominican binder, and both Nicaraguan and Dominican filler.   The Ghost is currently available in four front marks: Shadow (5 x 52); Angel (6 x 52); Asura (6 x 54); Exorcist (6 x 60)  A distinguishing characteristic is that three of the vitolas are six inches in length.  We will explore the 6 x 54 Asura as we did in the pre-review.
The pre-review was an IPCPR sample, but this assessment update is based on a release purchased from a retailer. For the most part the flavor profile remained the same as it was from the pre-review.   On one hand, there was a classic underlying flavor profile consisting of notes of white pepper, mocha, espresso, coffee, nut, and earth.  What made the Ghost unique was an unique sharpness to many of the flavors that gave this cigar some "bite".   I found the flavors to the Ghost to be closer to full-bodied on this post release cigar.   This was up from the medium to full-bodied notes on the pre-release.  The strength remains a solid medium to full.
For the most part, the burn was good on this cigar.  This post release seemed to need a few more touch-ups.  The draw was much better than on the pre-release as the looseness on the cap seemed to not be an issue here.
Click here to for our initial pre-review of the Gurkha Ghost.
Assessment: Nice to Have
Score: 90
Source:  The cigar for this assessment update as purchased from Outland Cigars in Charlotte, North Carolina.