Assessment Updates will be posted on this web-site to: 1) Assess "pre-review" cigars that were not given a rating or score (typically pre-release cigars); 2) Provide numeric ratings to cigars previously assessed prior to the implementation of the numeric scoring system; 3) Provide a re-assessment and re-score of a previously assessed/score cigars. Today, we provide an assessment rating and score to the La Flor Dominicana Limitado V. This was a pre-release cigar we did a pre-review for back in September, 2012.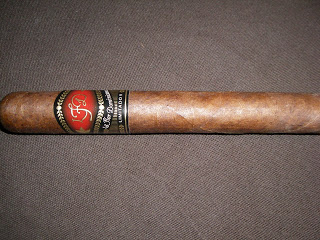 La Flor Dominicana Limitado V
La Flor Dominicana has released their fifth release of their The cigar is appropriately title – the La Flor Dominicana Limitado V. La Flor Dominicana has averaged about two years between Limitado releases and it has been almost three years since there has been one – therefore, this is a cigar that is going to be sought after. This proves to be one outstanding cigar.
The Limitado V has been positioned as being based off the original Limitado I blend. Like the Limitado I, it leverages an Ecuadorian Sumatra wrapper. The leaf for the wrapper is a ligero leaf. The binder is Nicaraguan and the filler is all Dominican (this differs from the Limitado I which used Dominican binder and filler).
Our experience with the flavor profile was very similar to what was delivered with the pre-release sample. It is a complex flavor profile that consists of pepper, chocolate, coffee, nut, and citrus flavors. The flavors are on the upper end of medium to full-bodied. The strength for the most part is medium to full, but toward the end that La Flor Dominicana ligero kicks in and it becomes full strength.
The Limitado V also has outstanding construction – with an outstanding burn and draw.
Click here for our detailed pre-review of the La Flor Dominicana Limitado V.
Assessment: Memorable
Score: 93