Assessment Updates will be posted on this web-site to: 1) Assess "pre-review" cigars that were not given a rating or score (typically pre-release cigars); 2) Provide numeric ratings to cigars previously assessed prior to the implementation of the numeric scoring system; 3) Provide a re-assessment and re-score of previously assessed/score cigars.  Today, we provide a numerical score to the Room 101 Daruma.  This was a cigar we were fortunate enough to smoke a pre-release sample of back in September 2012.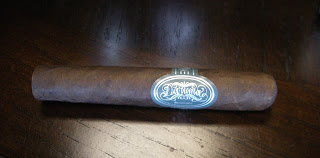 Room 101 Daruma – Papi Chulo
The Room 101 Daruma is the seventh blend to be released in Matt Booth's Room 101 line of cigars. It is also the second cigar that pays homage to Japanese culture, following the enormously successful Room 101 Namakubi (our #7 Cigar for 2011).  In a recent conversation with Booth, he told me that it would be very hard to replicate the success of the Namakubi, but he was very pleased with the finished product in the Daruma.
For the Daruma, Booth once again turns to an Ecuadorian Habano wrapper – the hottest wrapper in the cigar marketplace.  Booth had already had success with this wrapper for Namakubi and OSOK.  The Darauma is a true multinational blend also incorporating a Brazilian binder and both Honduran and Dominican tobaccos.   The Daruma has been released in five frontmarks.  I found each of the profiles very different from size to size.  In this assessment update, we will focus on the 4 x 42 Papi Chulo as this is the size smoked in the pre-release review.  While this is a small vitola, it has become a popular one in the Room 101 line.
For the most part the flavor profile of this post release cigar mirrored the pre-release sample.  I detected notes of cocoa, citrus, pepper, and cedar.  This post release cigar seemed to lean a little more on the cocoa end, and less on the citrus.  The flavors are full bodied and it are countered by medium to full strength.
Construction was excellent and this was reflected on both the burn and draw.
Click here to for our detailed pre-review of the Room 101 Daruma.

Assessment: Nice to Have
Score: 91

Source:  The cigars for this assessment update were purchased from Outland Cigars in Charlotte, North Carolina and Havana Phil's in Greensboro, North Carolina.