West Palm Beach, Florida – December 21, 2012 marks the conclusion of the 13th Ba'ak'tun in the Mesoamerican Long Count Calendar. It is believed that Armageddon would overtake the peoples of the world and all creation at this time. On December 14th, be prepared to smoke the last cigar you will ever have: the Tatuaje Apocalypse ™.
In a continuing effort to create limited runs of premium cigars blended by the industry's top manufacturers, Smoke Inn Cigars of South Florida proudly presents its fifth installment of their MicroBlend Series™, the Tatuaje Apocalypse ™. The sequel to the highly acclaimed Tatuaje Anarchy ™ released December 10, 2010, the Tatuaje Apocalypse ™ is smaller in size measuring 5.25" x 48-52. Made at the My Father Factory in Esteli, Nicaragua and dawned with a dark, rich Connecticut Broadleaf wrapper, the Apocalypse was guided by the vision of Pete Johnson. Johnson, along with the Garcia Family, have masterfully tweaked the original blend with such subtlety that the Apocalypse ™ is highly reminiscent of the original flavor profile, yet in somewhat of a more concentrated fashion.
Packed in 15-count boxes emblazoned in a vibrant red and screened in black ink, the reversal of red and black colors can be found on the cigar label as well. With only 1300 boxes having been made, the Tatuaje Apocalypse ™ will individually retail for $8.95 and boxes for $134.25. Pre Orders will begin at midnight on Thanksgiving Day, the beginning of Black Friday. The first 333 box orders will receive a special promotion: free shipping and a free limited edition Tatuaje Apocalypse ™ Cap.
The national release party will be held at Smoke Inn's West Palm Beach location at 801 Village Blvd on Friday, December 14th. Both Pete Johnson and the Garcia Family will be in attendance. All pre-orders will ship the following Monday, December 17th 2012. Orders should arrive in time for all to enjoy before the end of the world!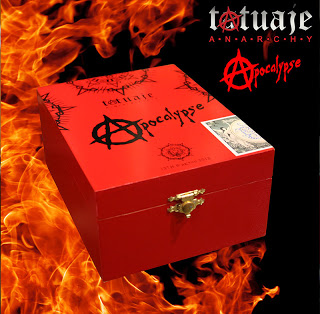 Previous releases in Smoke Inn's Microblend Series ™ –The Tatuaje Anarchy ™, The Padron SI 15™, The My Father El Hijo™, and the Arturo Fuente Solaris™ have received great accolades from cigar smokers all over the world. Smoke Inn proudly continues its quest to work with the world's leading manufacturers to create limited release boutique cigars that are produced with only the highest quality premium tobaccos under the strictest supervision to guarantee the consumer a unique and exquisite experience. For more information on Smoke Inn or their MicroBlend Series™, please visit www.smokeinn.com or call toll free 1-888-SMOKES-1.
Source: This press release was sent by Smoke Inn Cigars. Cigar Coop will post press releases as a free service to all cigar companies that choose to send Cigar Coop press releases.