Note: The countdown will resume on Weds. December 26th with our selection for #6 Cigar of the Year. Merry Christmas to all.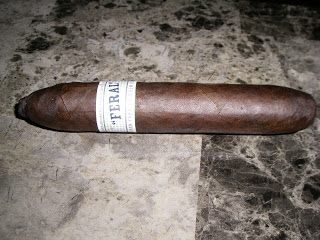 #7: Liga Privada Unico Serie Feral Flying Pig
by Drew Estate
We now begin the "Select Seven" the 2012 Cigar of the Year Countdown. Coming in at #7 is the Liga Privada Unico Serie Feral Flying Pig by Drew Estate. The Feral Flying Pig was released in December 2011, but since it was released post Thanksgiving 2011, it qualifies for the 2012 countdown.
This is the third "pig" to be released in the Liga Privada line. The first two pigs, the Liga Privada No. 9 Flying Pig and Liga Privada T52 Flying Pig were blend varations for the No. 9 and T52 cigars respectively. The Feral Flying Pig is more or less considered a new blend and is included in the Unico Serie (one blend, one size) line. It also was done in a 5 3/8 x 60 vitola – larger than the 4 1/4 x 60 of the No. 9 and T52 Flying Pigs. For the Liga Privada Feral Flying Pig, this was a example of an outstanding cigar that continued to get better over the course of a year.
For those keeping score at home, the Feral Flying Pig marks the second cigar by Drew Estate to land on the 2012 countdown. It marks a return to the countdown for the Liga Privada brand after a one year absence. This is the third time in four years Liga Privada has landed on the countdown. It is the first time since 2009 (when the Liga Privada T52 was our 2009 Cigar of the Year) that Liga Privada has landed in the top ten.
The flavor profile of the Feral Flying Pig is one that delivers flavors of espresso, chocolate, pepper, chicory, and even honey. While it might not have a lot of radical flavor transitions, this cigar has a lot of flavor nuances. During the course of smoking these throughout the year, I felt these nuances were more recognizable – thus increasing the complexity. The flavors are bold and full-bodied – and matched nicely by some full strength.
Construction is outstanding as well. Back this past May, we got to see how these unique cigars are made. We posted a video of this on the Cigar Coop Video Channel in which Jonathan Drew takes us through the process.
Click here for our original assessment of the Liga Privada Unico Serie Feral Flying Pig. Click here to see when we provided this an initial score.
Blend Profile

Wrapper: Connecticut Broadleaf Maduro
Binder: Brazilian Mata Fina
Filler: Nicaraguan

Vitolas Available

As with all Liga Privada Unico Serie cigars, there is only only vitola. In this case, the Feral Flying Pig it is a 5 3/8 x 60 perfecto.
Recommended Vitola: 5 3/8 x 60 (Default)