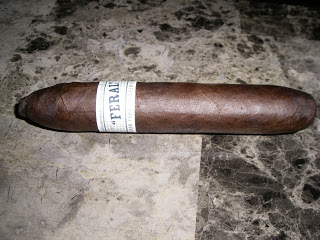 Liga Privada Unico Serie Feral Flying Pig
For the past three years, Drew Estate has released a special vitola in its popular Liga Privada series that has been called the "Flying Pig". The first was the Liga Privada No. 9 Flying Pig, and that was followed up last year by the Liga Privada T52 Flying Pig. Both were variations of the No. 9 and T52 blends respectively and came in 4 1/4 x 60 sized perfecto vitolas. This year, Drew Estate has released a third Flying Pig, but has done things differently. They have opted to go with a new blend and include it in their Unico Serie line. This one is called the Liga Privada Unico Serie Feral Flying Pig. The vitola is different from the original Flying Pigs. Overall this cigar is an outstanding edition to the Liga Privada brand – and proves to be one powerful smoke.
First up, a little background on the Liga Privada Unico Serie. The Unico Serie concept was introduced with the Liga Privada Unico Serie Dirty Rat. When that blend was released, Drew Estate President Steve Saka explained the Unico Serie as follows: "At this point, we have made 200 or more Liga Privada blends. There are probably 9 or 10 of them so far that are exceptional, however their blends differ from both the No. 9 and the T52 branded cigars. They're cigars that work as a particular size, such as a lancero or corona, with the blend being unique to that particular vitola." Unico Serie blends have been introduced with the Liga Privada Dirty Rat, Liga Privada L40 Lancero, and the Liga Privada A – and thes have proved to be popular with cigar enthusiasts.
The word is that there will be somewhat increased production of the Feral Flying Pig – and they will be released in small batches to authorized Liga Privada retailers on a periodic basis. Word is they are considering making this an ongoing release – also on a periodic basis.
Let's break down the Liga Privada Unico Serie Feral Flying Pig and see what this cigar delivers:
Blend Profile
The Feral Flying Pig features a similar wrapper that was used on the Liga Privada No 9.
Wrapper: Connecticut Broadleaf Maduro
Binder: Brazilian Mata Fina
Filler: Nicaraguan
Vitolas Available
As with all Liga Privada Unico Serie cigars, there is only only vitola. In this case, the Feral Flying Pig it is a 5 3/8 x 60 perfecto. This is a longer vitola than the No. 9 and T52 Flying Pigs. The cigar features the trademark pig-tail cap that is present on all Flying Pigs.
Preparation for the Cigar Experience
As I do with all pig-tail capped cigars, I opted for a straight cut into the cap of the Feral Flying Pig. I immediately commenced with a pre-light draw. The dry draw notes were simply outstanding. I was treated to notes of coffee, wood, and some background spice. These notes were bold and very satisfying. I spent a few minutes savoring the pre-light draw notes, and then it was time to fire up my Feral Flying Pig and see what would come to the table.
Flavor Profile
The initial notes of the Feral Flying Pig treated me to a mix of espresso, chocolate, and black pepper. All three of these flavors blended together for a very good taste. The flavors were bold right up front. As the smoking experience settled, there was a smoothness to this cigar right off the bat.
As the cigar progressed through the first, I noticed some hints of chicory emerge in the background. The first half featured a lot of alternating between the black pepper and chocolate sweetness. At the same time, the espresso notes still remained very much present.
In the second half, I noticed the espresso notes diminish. At the same time, the chocolate notes morphed into more of a honey flavored sweetness. As the Flying Feral Pig moved into the last third of the smoke, the black pepper notes broke out. The Feral Flying Pig had a very spicy finish, but it was not harsh by any means. The resulting nub was soft, but it did not burn hot.
Burn and Draw
I never seem to have good luck with anything that is a perfecto shape in terms of the way it burns. At a Pete Johnson Tatuaje event, I discussed with Johnson my frustration with perfectos and he advised me to clip both ends of the perfecto. I did not do this with the Feral Flying Pig – and for the most part, except for one point where I got a little bit of tunneling, the burn was very good. It is a good testament to how a perfecto and big ring gauge cigar should be made. It did require some touch-ups, but nothing terribly major. The ash was a nice white ash – although at times it did flower a bit.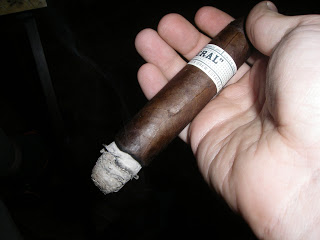 Burn of the Liga Privada Unico Serie Feral Flying Pig
The draw was simply outstanding on the Feral Flying Pig. This made for a very enjoyable smoking experience
Strength and Body
In terms of this smoking experience, the strength is the story of this smoking experience. This is one powerhouse smoke. It is definitely the strongest cigar I've smoked in quite some time. You feel the strength about 25 percent into the smoking experience – and it doesn't let up. This one really kicked me hard. The amazing thing is that the strength of this cigar does not overshadow the flavors that this cigar delivers. This cigar has some of the boldest flavors I've seen in sometime. As a result, the flavor is not sacrifced by the strength – and this was a textbook case for how a strong cigar should be blended.
Final Thoughts
Drew Estate co-founder Jonathan Drew has been on the record stating he feels this is one of the best cigars that his company has delivered. This was a very good cigar. I still am very partial to the Liga Privada T52 being the best cigar that Drew Estate has delivered, but this one falls right in the upper echelon to Drew Estate releases. It wasn't the most complex cigar, but it delivers a burst of power and flavor. This is definitely not a cigar for the novice, and I would only recommend this to an experienced cigar enthusiast who loves a full-strength cigar. From a personal standpoint, this is a cigar I would smoke again – and easily make into a box purchase.
Summary
Burn: Good+
Draw: Excellent
Complexity: Low
Strength: Full
Body: Full
Assessment: Memorable
Source: The cigar for this assessment was purchased from Outland Cigars in Charlotte, North Carolina. Due to limitations on how many cigars could be purchased at this time, this assessment was based on a single cigar smoke.