BRINGING
SOME OLD FASHIONED "GLAM" BACK TO THE RACES…
(Miami,
Florida) December 18, 2012 -Historic Hialeah
Park set
the stage for racing to begin Saturday,
December 15, 2012 and continue every Friday, Saturday and Sunday
through February 17, 2013. Fans
will have the opportunity to enjoy American Quarter Horse racing in
what has long been considered "the
world's most beautiful race course."
This season also coincides with Phase 1 of Hialeah Park's
expansion, with construction of the casino, set to open in summer
2013, well under way. Oliva
Cigar Company was
a proud sponsor of one of South Florida's gems.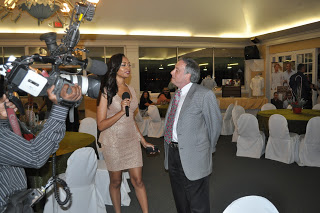 Hialeah Park Creative Director Frank Fiore being interviewed
The
Oliva Cigar Company
jumped at the chance to sponsor the VIP/Media reception. The race
track is not only a South Florida classic but also has an interesting
connection to Cuba. The iconic flamingos which are a staple of the
track since its opening were brought in from Cuba back in 1933.
The
venue hosted a kickoff reception for media and influencers this past
Wednesday,
December 12, 2012
from
6:30-9:00PM featuring
Hialeah
Mayor Carlos Hernandez.
This fabulous event included a cocktail reception and Q&A, and
served to jumpstart the racing season as well as showcase the new
happenings at Hialeah Park. Opened in 1921, Hialeah Park is
considered an iconic venue which for years was "the"
race track for horse racing enthusiasts. The park's design was
inspired by landmarks all over the world, including Longchamp in
Paris and the casinos of Monte Carlo. Hialeah Park is now undergoing
a re-birth under the leadership of John
J. Brunetti, Sr.
and the Brunetti
family,
owners of Hialeah Park since 1977. The Brunettis and their management
team are determined to bring Hialeah Park back to its days of glory,
when notables such as Winston Churchill, John F. Kennedy, and Frank
Sinatra graced its gorgeous walkways. Phase 1 of the multi-phase
build out project includes The
Casino at Hialeah Park,
featuring 870 slots, 21 poker tables, and various food, beverage and
entertainment locations. It will also feature a multi-million dollar
landscape design by world renowned landscape architect Raymond
Jungles.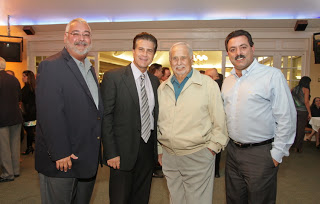 President of Hialeah Park John Brunetti JR. , Hialeah Mayor Carlos Hernandez,
Hialeah Park owner John Brunetti Sr., and Director of gaming Steve Calabro
Oliva
Cigar Company was in full swing at the event as guests smoked Oliva
Serie V
cigars while sipping on cocktails sponsored by Diplomatico Rum. Oliva
Cigar Company was acknowledged as a strong pillar of the community as
Mayor Hernandez took to the microphone. Oliva's Director
of Marketing John Conroy
represented Oliva as he educated guests on the quality and
craftsmanship that goes into making Oliva's premium cigars.
Hialeah
Park is not only a race track but considered a mecca among horse
enthusiasts. Jose Oliva was proud to have his company be part of the
re-birth of one of the most storied sporting venues in the United
States.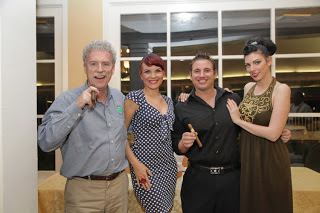 Oliva Cigar Company Director of Marketing with Gabriel Pineres of
Creativas Group PR and two models
For more information on Hialeah Park please visit
www.hialeahparkracing.com
and
www.hialeahnowandforever.com
as well as on Facebook and Twitter under Hialeah Park. Hialeah Park is located at 2200 East 4th Avenue, Hialeah, FL 33010. Call 305-885-8000 for further information
Creativas
Group Inc. provides public relations and marketing counsel to
corporations, local businesses, nationally recognized special events
and leading non-profit organizations. For more information, please
log onto
www.creativasgroup.com
or email info@creativasgroup.com.
Source: This press release was sent by Creativas Group Public Relations. Cigar Coop will post press releases as a service to all cigar/cigar-related companies that choose to send Cigar Coop press releases.