Assessment Updates will be posted on this web-site to: 1) Assess "pre-review" cigars that were not given a rating or score (typically pre-release cigars); 2) Provide numeric ratings to cigars previously assessed prior to the implementation of the numeric scoring system; 3) Provide a re-assessment and re-score of a previously assessed/scored cigar. Today, we provide a rating and numerical score to the Heisenberg by Quesada. This was a cigar we did a pre-release review for back in January, 2013.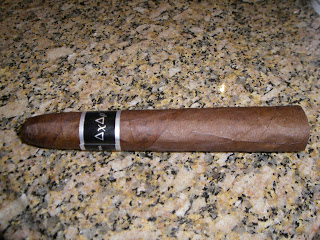 Heisenberg by Quesada
Back in December, we were one of the first cigar web-sites to report on an upcoming cigar by Quesada called Heisenberg. Mystery is a theme of this cigar. The Heisenberg by Quesada represents a cigar project with the theme "Embrace Uncertainty". To support this theme, details about the blend, tobacco origins, factory, and quantities have been purposely held back. The intent is not to over-analyze the composition of the cigar, but rather sit back, relax, and enjoy the cigar experience. We've been on the record that we enjoy this theme of mystery around this cigar. When it comes to the cigar itself, the Heisenberg delivers a very good smoking experience.
While there are no details of the blend, we do know the Heisenberg comes in four sizes: Petite (4 3/4 x 40); Corona (4 x 43); Robusto (5 x 48); and Corneta Cuadrada: (5 3/4 x 44/48/55). Like when we did our initial pre-review, this time we also smoked the Corneta Cuadrada for our Assessment Update. Unlike when we did the pre-review, this Heisenberg was banded – containing a black and silver band. There is no name on the band, but it does have a graphic of the formula of Heisenberg's Uncertainity Principle.
Our pre-review of the Heisenberg was based on a single smoking experience. At the time of that pre-review our friends at A Cigar Smoker's Journal and the Smoking Greek noted flavor variances in the smoking experience of several of the cigars of the same vitola. This was something we were keeping an eye on this time around. This might also justify doing follow-on assessment updates this time around.
The pre-release smoke of the Heisenberg we smoked yielded flavors of pepper, cocoa, caramel, floral, and orange notes. For this particular assessment update, I picked up more cocoa and pepper and less of the orange flavors. I also detected some chicory flavors. From smoking several of these cigars and the pre-release, I think its safe to say there is some level of flavor variance between various smokes of the same vitola.
The Heisenberg does a great job at balancing the strength and body attributes. The Heisenberg starts out as a medium strength, medium-bodied cigar – and progresses to medium to full for both of these attributes.
Finally, the construction was outstanding. I found the burn to be excellent – much improved from the original pre-review. The draw was also excellent.
Click here for our original pre-release assessment of the Heisenberg.
Assessment: Nice to Have
Score: 92
Source: The cigars for this Assessment Update were purchased from Smoke Inn Cigars in West Palm Beach, Florida.