Assessment Updates will be posted on this web-site to: 1) Assess "pre-review" cigars that were not given a rating or score (typically pre-release cigars); 2) Provide numeric ratings to cigars previously assessed prior to the implementation of the numeric scoring system; 3) A re-assessment and re-score of a previously assessed/score cigars. Today, we re-assess and re-score the Room 101 San Andres. This was a cigar we first assessed and score back in July, 2012.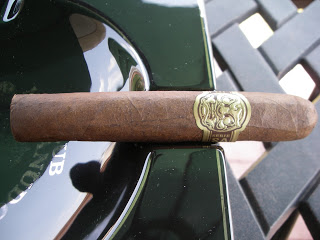 Room 101 San Andres
The Room 101 San Andres was the sixth cigar blend released by Matt Booth's Room 101 Cigar brand. It was released as a core line in the Room 101 Cigar portfolio. We assessed this cigar back in July, 2012 and scored it as a "90". Recently, we have gone back and re-visited this cigar and frankly was amazed what about 8 additional months of age did to this cigar. Without a doubt, this cigar has gone to a new level, and thus we have decided to revisit this cigar.
As the name indicates, the Room 101 San Andres uses a wrapper from the San Andres region of Mexico. The tobacco comes from the Turrent family – one of the top growers of San Andres tobacco. The wrapper is combined with a Corojo Seco leaf from Honduras and filler from both Honduras and the Dominican Republic using Criollo ligero leaf and Corojo deco. The line was launched in six sizes: Papi Chulo (4 x 42), the 213SA Petit Corona (5 1/2 x 44), the 305SA Robusto (5 x 50), the 6156SA Churchill (7 x 48), and the 808SA Corona Gorda (6 x 60). For this assessment update, we once again revisit the 305SA Robusto size.
We smoked several robustos and this time, we really saw the Room 101 San Andres shine when it came to its flavor profile. The notes we got this time were leather, coffee, exotic spice, and citrus. The coffee flavors were richer this time around. There were even times it resembled an espresso syrup. The citrus notes also hung around a lot longer during the smoking experience. There was a lot less pungency this time – making it a smoother smoke.
The flavors were medium to full-bodied while the strength was medium for most of the smoke. Like the original, this time there was an increase in strength at the end of this cigar, but this time it went to medium to full strength as opposed to full strength. Overall, this time around there was a closer balance between the strength and body – with an edge still going to the body.
Construction was outstanding as it delivered a low maintenance burn and draw from start to finish. This is a cigar that you should re-visit if you haven't explored it lately.
Click here for our original assessment of the Room 101 San Andres.
Original Assessment: Nice to Have
Re-Assessment: Memorable
Original Score: 90
Re-Assessed Score: 92
Source: The cigars for this assessment update were purchased from Outland Cigars in Charlotte, North Carolina.