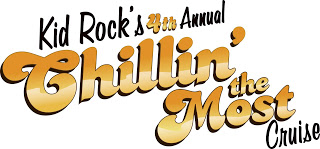 CAO
Amps Up Kid Rock's Chillin'
The Most
Cruise
Brand
Fan and Guest to Set Sail to the Bahamas in "Concert" Promotion
CAO will deliver a smokin' experience to guests aboard the Kid Rock "Chillin' The Most" cruise which departs Miami today, March 5, 2013.
As the winner of the CAO Concert launch sweepstakes, Justin Harris of Nashville, TN and a guest will set sail for the Bahamas on the fourth annual Kid Rock Chillin' the Most cruise. The fan experience for Harris and fellow passengers aboard Norwegian Pearl cruise ship will include a CAO branded cigar lounge, a CAO blending workshop and live music performances by Kid Rock, plus an incredible line-up of bands he personally selected for the music festival at sea.
The Kid Rock Chillin' the Most cruise is produced by Altanta-based Sixthman. Full details about the cruise are available at www.kidrockcruise.com.
Ed McKenna, senior brand manager of CAO Cigars said, "With a customized onboard cigar lounge and the chance for guests to crank up their cigar knowledge by hanging out with our cigar blender Rick Rodriguez, Kid Rock's 'Chillin' the Most' is the ultimate expression of our brand. It's also a fitting way to celebrate the success of CAO Concert, which gives a nod to our rock n roll roots."
Kid Rock's Chillin' The Most Cruise will be Sixthman's 52nd full ship charter. Beginning today, Norwegian Pearl will sail to the private island destination of Great Stirrup Cay, Bahamas, aka "Redneck Paradise." Fans will spend two music-filled days on the island, with an additional day at sea before returning to Miami on March 10th. New this year is the opportunity for guests to sail on The Pearl the night before departure, for a special pre-party hosted by Kid Rock.
"CAO and the Concert brand mirror Sixthman's level of devotion for delivering quality experiences to passionate music fans. Not only will guests of Kid Rock's Chilln' the Most Cruise soak in five days of moments that make life rock out on the ocean with their musical hero, they'll have the chance to enjoy a trend setting cigar while basking in the music and sunshine of the Caribbean. CAO and Sixthman are excited to set the stage for cruisers to LIVE LOUD," said Kappy, Sixthman's sales and marketing manager.

About CAO Cigars: Handcrafted by artisans in Nicaragua, CAO is recognized among cigar lovers worldwide for its innovative blends, superb quality and unexpected packaging. The brand continually receives top ratings from cigar media across the globe, and enjoys a devoted fan base. Its most recent new collection called Concert celebrates the brand's rock n roll heritage with a unique blend and packaging that's styled after a classic Marshall amp. Visit www.caocigars.com for more info.
About Sixthman: Sixthman, headquartered in Atlanta, Georgia, creates festivals at sea designed to set the stage for moments that make life rock! Since 2001, we have been pioneering themed cruise experiences for bands, brands, and their fans and are proud to be celebrating our 11th year and the accomplishment of executing 45 full ship charters, hosting over 100,000 guests for nearly 500,000 days on vacation at sea with world class artist and brand partners such as KISS, Kid Rock, John Mayer, Lynyrd Skynyrd, 311, Zac Brown Band, Lyle Lovett, Barenaked Ladies, Sister Hazel, Turner Classic Movies, VH1, along with engaging festivals such as The Rock Boat and Cayamo. INC Magazine recognized us as America's Fastest Growing Travel Company and the 87th fastest growing company across all segments on the INC 500 List. www.sixthman.net
Source:
This information was sent to Cigar Coop by General Cigar Company. Cigar
Coop will post information as a free service to all cigar companies
that choose to send Cigar Coop information to share.