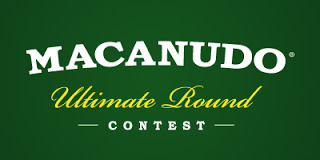 Richmond,
VA—
Macanudo
®,
America's best-selling premium cigar brand, is sending the winners
of the
Macanudo
Ultimate Round Contest
on a spectacular, all-expense paid trip to
Augusta
to see golf's greatest players compete in the
2013
Masters
Golf
Tournament,
live and
in person.
A
total of eight winners and their guests will be whisked away to the
mecca of golf from April
10-15, 2013 where
they will enjoy a golf-lover's dream come true: all-access tickets
to the 2013 Masters, roundtrip airfare, lush accommodations at
exquisite private residences, and white glove service, all in the
company of their favorite Macanudo cigars.
As
the winner of the Macanudo Ultimate Round photo contest,
Jason Canady of Fayetteville, NC, submitted
a photo of himself smoking a Macanudo 1968 at his hometown club,
King's Grant Golf and Country Club. Jason and his guest will be
joined in Augusta by the seven winners selected from entries
submitted through online cigar retailers. They are: Richard
Brown, Macon, GA
(Thompson Cigars); Charlie
Swart III, Wheeling,
WV (JR
Cigars); Kent
Kilpatrick, McCook,
NE (Famous Smoke Shop); CJ
Kirkpatrick, Rio
Rancho, NM (Holt's); Kevin
Klein, Chester, NJ
(Cigars International); Marc
Stine, Parker, CO
(Best Cigar Prices), and
Ralph Hoover,
Pittsburgh, PA (Mike's Cigars).
"The
Macanudo Ultimate Round contest winners are about to experience the
ultimate enjoyment of cigars and golf," said Alan Willner, vice
president of marketing for General Cigar. "Macanudo's longtime
association with the sport of golf is allowing us to deliver an
unparalleled VIP experience. For these devoted Macanudo fans who
enjoy the game as much as they enjoy their cigars, this will be the
trip of a lifetime."
Updates
from the Masters, and photos of Macanudo's ultimate golf getaway
will be posted to the brand's
Facebook
and
Twitter
accounts beginning on April 10.
About Macanudo Cigars
Since their
introduction in 1968, Macanudo cigars have been a favorite among
premium cigar connoisseurs. The brand continues to be the best
selling premium cigar brand in the U.S. and also sells in more than
90 countries worldwide. In addition to the base brand of Macanudo
cigars, the brand also features these collections: Macanudo Maduro,
Macanudo Robust, Macanudo Gold Label, Macanudo Vintage and Macanudo
1968.
General
Cigar Co. Inc., a division of Scandinavian Tobacco Group,
manufactures and markets handcrafted cigars for the premium market.
Committed to delivering cigars of the finest quality, General Cigar's
skilled artisans produce Macanudo®, Cohiba®, La Gloria Cubana,
Punch®, CAO, Partagas®, Hoyo de Monterrey®, Excalibur® and
several other leading premium brands in the company's Dominican,
Honduran and Nicaraguan factories. In addition, the company
cultivates proprietary tobacco which is used exclusively in its
blends. General Cigar also operates Club Macanudo®, a cigar bar in
New York City. Based in Richmond, VA, General Cigar sells through
tobacconists nationwide and also exports select products to 62
countries. For more information, please visit
www.cigarworld.com
.
® Macanudo,
Cohiba, Partagas, Hoyo de Monterrey, Excalibur, La Gloria Cubana and
Club Macanudo are registered trademarks of General Cigar Co. Inc.