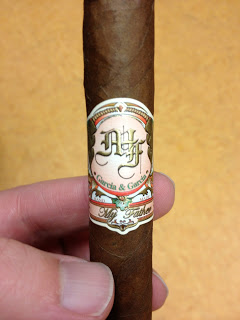 Portsmouth, NH – Federal Cigar is honored to announce the upcoming release of the My Father Cigar Company's Special F to commemorate Federal's 92nd Anniversary event on Saturday, March 16th 2013. Blended by the Pepin family, this cigar is a prime example of the history of excellence for which the My Father Cigar Company has become known.
It will be a singular release, with 200 boxes of 15 in a Corona Gorda (5.5 x 46) size. They will be available for in-store purchase only starting on the 16th at the Federal Cigar My Father Lounge, located in Plaistow, NH with members of the Garcia family on hand to join in the festivities. Any remaining quantity after that weekend will be available for purchase by phone or online at FederalCigar.com.
The blend of the Special F is based on the familiar S Special cigar, normally reserved for events attended by members of the Garcia family. With the Special F, however, the blend has been changed such that it stands firmly on its own as an individual cigar in both flavor and strength. Any remaining information regarding the blend is unavailable at this time, per the request of the My Father Cigar Company.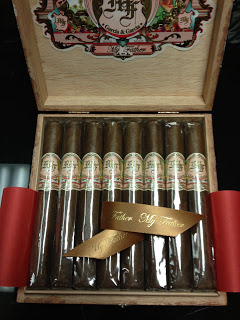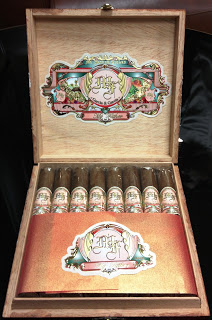 About Federal Cigar:
Federal Cigar has been providing Seacoast area New Hampshire, Southern Maine, and Northern Massachusetts with fine cigars and quality tobacco products since 1921. Serving the Portsmouth NH area and surrounding towns for the last 92 years, Federal Cigar has a long and rich history in the local community as experienced, knowledgeable, and professional tobacconists.
Federal Cigar currently has four (4) locations in the state of New Hampshire. The oldest location is in Portsmouth, followed by Dover, Epping, and the newest addition to the Federal Cigar organization – Plaistow NH. The Plaistow location features the newest and most updated Member's Lounge, sponsored by the My Father Cigar Company, and one of the largest selections of cigars and fine tobacco in the area.
Source: This press release was sent to Cigar Coop by Federal Cigar. Cigar Coop will post information as a free service to all cigar companies that choose to send Cigar Coop press releases.