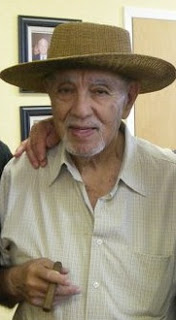 Avo Uvezian of Avo Cigars
(Cigar Coop Photo)
Avo Cigars will be launch a cigar exclusively for the Tobacconist Association of America (TAA) shops this fall. The cigar will be called the Avo Movement. Details of this TAA exclusive appeared on an April 5, 2013 article in Cigar Afcionado.com.
While details of the blend and size were not disclosed, the significance of the Avo Movement is that it will mark the first time a cigar in Davidoff's Avo Cigars brand will be box-pressed. It was mentioned the cigars will be packaged 20 per box and have an SRP of $11.00
The Avo Movement will join planned 2013 TAA releases by Tatuaje and La Flor Dominicana. While not a TAA exclusive, the La Aurora Maduro will have an early release to TAA retail members prior to the national launch at the 2013 IPCPR trade show. It has also been reported that Joya de Nicaragua's CyB Lancero Fino will be introduced to the TAA as well.
The TAA cigars are only available for sale to those retailers that are members of the TAA. In many cases, these TAA releases are one time production runs.