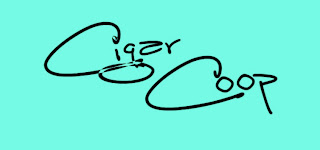 Each and every year, one thing that has become an informal tradition in the cigar industry is a bunch of April Fool's posts. I've seen ones from a 500 ring gauge cigar to other announcements about bogus acquisitions of one cigar company to another. One one hand it allows the cigar industry to let loose and have a little fun for a day. On the other hand for cigar news junkies it does make us to our homework and look closely as some of the hoaxes are quite creative. Perhaps no April Fool's was more difficult to assess than 2013. It was on April 1st where two major stories began to hit the cigar news. On the surface, when these were first seen, they could have easily been confused for hoaxes. One story turned out to be true. The other turned out to be a hoax.
Fire-Cured Cigars
The first involved Sam Leccia's return. Many know Sam Leccia as the face of the Nub and Cain brands of Oliva. As many know Leccia has been in exile from the cigar industry as he has been prevented from launching his own company due to a non-compete clause from his previous employer. On April 1st, Leccia's long awaited return was announced. The announcement wasn't what was being confused for a hoax – as many knew it was coming. It was the announcement that a fire-cured leaf was being used in one of his blends that led me to think this could be one of those April 1st announcements to question.
It turned out the story was more than true. Leccia is using a fire-cured leaf in his Leccia Black cigar. Now many know that fire-cured tobacco typically does not go into cigars as the tobacco for premium cigars is air cured. The idea of a fire-cured leaf could impart a whole new flavor profile on a cigar. The next day when Drew Estate announced the MUWAT Kentucky Fire Cured line – which will use a fire cured wrapper, the story now took on more meaning. Now its suddenly a historic week. We have a whole new innovation by two factions (Leccia and Drew Estate) who built their reputation as innovators. This excitement could lead to what I term the next generation in cigar blending.
Operation Smokescreen
Operation Smokescreen will go down in history as one of the great April Fools jokes in cigar industry. This was positioned as a movie that is going to star some major personalities in the cigar industry playing themselves. The movie is seems to combine satire and an action/thriller team. Take the satirical aspects, the name "Operation Smokescreen", and an April 1st announcement and you have the formula for the ultimate April Fool's joke.
A press release was made – and even a movie trailer was done. For days after the announcement, the joke went on. There were lots of "clips" on Facebook and there were plans for an internet screening on April 15th. The movie also featured Rocky Patel – who has Hollywood roots. All of this was enough to fool many – including this author. On that "internet screening", it was revealed that "Operation Smokescreen" was nothing more than a marketing campaign to garner interest for the launch of a cigar publication.
First up, the "truth" to this campaign is that some of these cigar celebrities that were "starring" in the movie are actually writing pieces for the magazine, so that is a positive. Secondly, it may sound like sour grapes to be critical here. I will say credit is due for a creative joke. In my opinion, to carry on such a joke for two weeks – a little excessive, yet for two weeks I was fooled. The problem isn't in the joke, but with the effort. In my opinion, a wasted opportunity to do something more positive was missed here.

The idea of a movie starring cigar personalities was exciting and very believable. The personalities of the cigar industry are very unique. Anytime you put Jonathan Drew, Rocky Patel, Matt Booth, Christian Eiroa, Ernesto Padilla, Charlie Torano, and Kurt Van Keppel together – you can build something special. Perhaps more than some magazine pieces, a byproduct of the marketing campaign could have been an actual story was weaved together. It could have been campy and satirical. There were probably enough clips were done perhaps do something along these lines. I'm not saying a feature film, but something of entertainment value – like a viral video. It could have easily been a way to promote the industry. Maybe it could have been something sold to help fund legislative efforts. I have to be critical of the participants here. These people have such a knack for being creative – yet they didn't see the bigger picture here when it came to participating in the marketing campaign. Instead a bunch of clips will now be done on something that will be remembered as nothing more than a gimmicky marketing campaign that was a part of an April Fools' Joke.
By the way, if you think cigar personalities cannot provide entertainment value – look at what Abe Dababneh and Matt Booth did with the launch of the Room 101 Big Delicious. They created characters based on themselves and put them into a funny and entertainment comic strip called the "Adventures of Swanky White and Big Delicious". The comic strip was nothing to be taken seriously, but it was creative and did provide some interest and entertainment value.
Good April Fools Joke? Yes. Nice to see some magazine pieces? Yes. Missed opportunity for something special? Absolutely.