As Altadis USA, we are once again proud to announce a new launch:
Introducing a Modern, Bold and Unique brand in the US Market: SLR Gen2
Saint Luis Rey is one of the well-known and trusted heritage brands in the US Market. Originated in Cuba after WW2, and was named after the town of San Luis in the Vuelta Abajo tobacco growing region in Cuba – one of the best tobacco growing regions – where these cigars were originally rolled.
The brand has been in the US Market since 1982 and according to the recent consumer research that is conducted in January 2013, it is in the top 15 most recognized brands list. It is also one of Altadis USA's biggest potential brands, selling over 1 million cigars per year.
As Altadis USA, we wanted to build on that image and launch an innovative new concept with SLR Gen2 to attract a wide range of different consumers not only with the unique blend but also with the attractive price positioning.
The new SLR Gen² is available in three sizes which are in line with market trends: Robusto (54 x 4 ½"), Toro (54 x 6″) and Titan (60 x 6″) all in a 21 count box. The blend consists of a Dark Ecuadorian Sumatra wrapper, Nicaraguan binder and Honduran & Nicaraguan filler.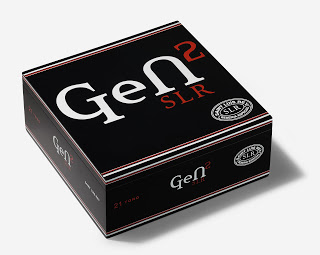 Priced right at the sweet spot, very competitive in the US Market, $5.75 to $6.75.
This fuller bodied cigar also uses three year aged tobaccos exclusive to our cigar.
Easily identifiable with the use of double band from the other prestigious SLR brands that we offer.
Gen² is not just a new version of a classic. It is much more. It is the heritages of many generations of know how. It is the expression of wisdom and passion from some of the most expert craftsmen in the world as they bring forth a most sublime smoking experience. From our recent consumer research, we know that US Consumers are always looking to try something new; this was one of the aims of the launch – to offer something new, compelling and punchy to these targeted profile.
Gen² is a rare combination of quality, tradition, innovation and the passion of centuries expressed in a singular cigar.
There is only one formula for pleasure!
Quality + Passion + Innovation = Gen²
Passion Squared!