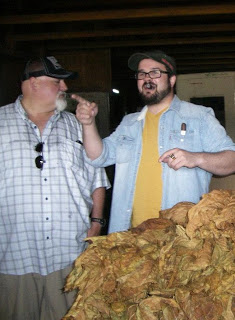 Drew Estate CEO Steve Saka (Left),
Executive VP Nicholas Melillo (Right)
When it comes to Broadleaf tobacco, there is a prevailing feeling that Connecticut Broadleaf tobacco is the finest in the world. There is no doubt that Drew Estate CEO Steve Saka and the team from Drew Estate believe this. Recently, we were in Esteli, Nicaragua and got to hear Saka and Drew Estate Executive Vice President Nicholas Melillo talk about the origins of Broadleaf tobacco, the historical context around it, and why they believe it is the best in the world. We included a video of this discussion
There are many areas where Broadleaf tobacco is grown in the United States. Saka and Melillo mention the Pennsylvania Broadleaf, as well as a Wisconsin variety. However, in their opinion it is the Connecticut Broadleaf wrapper – grown in the Connecticut River Valley which is the best. The glacial soil of this area makes it ideal to grow this leaf and produce a quality end product. This is analogous to why areas of Idaho produce the best potatoes and areas of Georgia produce the best peaches.
Last year, we did a feature story in which Saka described the origins of the Criollo seed and the migration paths it has taken. Broadleaf tobacco can trace its origins to the Criollo seed In the video, Saka recaps this story. He talks about how the seed started in South America and was used in Brazilian tobacco. It then migrated to Mexico (San Andres), the Caribbean (Cuban), the United States (in parallel), and finally Indonesia. Saka mentioned how the leaves acclimated to these areas and became their own individual unique strains. There is also some very good discussion on seed hybridization in this video.
Saka talks about how the Huron Indians in North America were big cultivators of tobacco (where Broadleaf came from) – and tells the story of the Huron Indian Myth.
Here is the video on the topic.