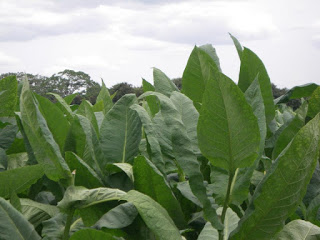 Tobacco leaves prior to curing (Cigar Coop Photo)
Recently, the announcements of the MUWAT Kentucky Fire Cured and Leccia Tobacco Black have put a new phrase into many cigar enthusiasts' lexicon – fire curing. Both of these releases will make use of tobacco that undergoes this process. While fire cured tobacco is not something new, these announcements are significant because they are the first major premium cigar releases that will incorporate this concept. Both projects are very different. The Leccia Black will incorporate a leaf in its filler blend, while the MUWAT Kentucky Fire Cured is expected to utilize at a minimum fire cured tobacco on the wrapper.
Most cigars utilize air curing for tobacco. With air curing, the tobacco is hung in a barn for several weeks to remove moisture from the leaf. Sometimes charcoal is used as a part of the process to control the humidity. With Fire Cured tobacco, hardwoods are kept on continuous, low smoldering flames to remove the moisture. Typically this process is used for pipe and chewing tobacco. The idea of the fire cured releases is to also produce a smokey, camp-fire like flavor in the final product.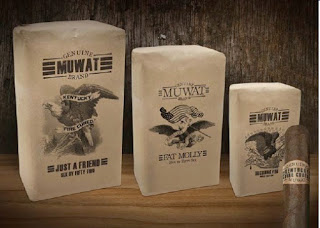 Packaging of the upcoming MUWAT Kentucky Fire
Cured (Photo courtesy of Drew Estate)
On a recent trip to Esteli Nicaragua, we toured a curing barn at the Finca La Joya farm. It was in the curing barn where there was a segue into a discussion on fire-cured tobacco.
In the video below, Drew Estate CEO Steve Saka and Executive Vice President Nicholas Melillo discuss what goes on throughout the Fire Curing process. One point that Saka points out a key difference between fire curing and air curing with charcoal. In the fire curing process, the smoke is used to transmit the heat while with air curing with charcoal it is used to suck out the humidity of the tobacco. The heat from fire curing is also being used to cure the tobacco. This also is used to reduce the cycle time of the curing process.
Melillo explains how the hardwoods and sawdust are used to increase the smoke and that imparts the smokey flavors into the tobacco. Saka also explains that at one time many Indonesian wrappers used to have a smokey taste to them because a native hardwood was used during the air curing process (similar to how the charcoal was used). Because of problems around deforestation, Indonesian wrappers have moved away from using hardwood.
Saka also explains that with candela tobacco that heat is used to bring the curing barn temperature up to about 180 degrees F (a much higher temperature than the low smoulder of fire curing which is around 120 to 130 degrees F) and also uses the heat to cure the tobacco. In three days the candela is being pulled out of the barn. The chlorophyll converts differently and gets affixed to the tobacco creating a different taste.
.