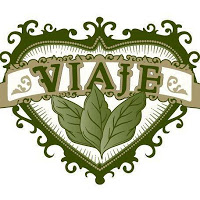 Last week we noted a report from Cigar Insider that Viaje was going to issue the ultra-limited Viaje Zombie 2013 to four retailers. Today Viaje announced via their Facebook page the four retailers who are going to receive the blends.
The Viaje Zombie 2013 release actually is going to consist of two different blends – a "Natural Box" (or what has also been termed a "White Box") blend and a "Black Box" blend. While the blends are different, the names also refer to the color of the boxes they are packaged in.
There will be two retailers that will receive 50 boxes each of the Natural Box blend while the other two retailers will receive the Black Box blend.
Viaje has not disclosed the blend, but the Cigar Insider report noted the cigar would be a 5 x 52 robusto with a tapered unfinished foot.
The four retailers are listed below. Greensboro authorized Viaje retailer Pipe and Pint will be doing a release party on 5/18.
Ambassador Fine Cigars – Natural box
Scottsdale, AZ
Casa de Montecristo – Black box
Countryside, IL
Crescent City Cigars – Natural box
New Orleans, LA
The Pipe & Pint – Black box – (*release party 5/18)
Greensboro, NC