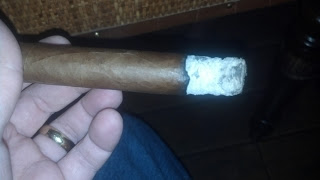 Nomad LE Esteli Lot 1386 (Cigar Coop Photo)
Fred Rewey's Nomad Cigar Company is getting ready to release a new line at the 2013 IPCPR Trade Show in Las Vegas. The company, which produces its Dominican-based Nomad line is now turning to the country of Nicaragua for this release. The cigar is called the Nomad LE Esteli Lot 1386 and as the title indicates it will be a limited production run, and of course have the influence of Esteli Nicaragua in the blend.
The Nomad LE Esteli Lot 1386 will be made in Nicaragua as well as contain Nicaraguan tobacco. Rewey told us the name "Nomad" is indicative to why he chose to go from the Dominican Republic to Nicaragua for this release. – to basically "wander" into another part of the tobacco world to make a cigar.
There will be 307 boxes of 12 of the LE Esteli Lot 1386. According to a recent press release, Rewey said that the 307 represents the approximate area in miles of this tobacco growing region. Rewey also indicated that he "chose "Lot 1386" by also paying homage to the region – How exactly I will leave to those who speculate the topic over a cigar."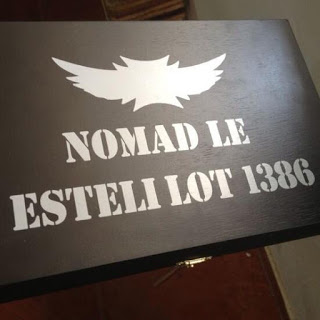 Packaging of the Nomad LE Esteli Lot 1386
(Photo used with permission by Nomad Cigar Company)
Our initial sampling of this cigar found it to be of outstanding construction, and an outstanding flavor profile. We found it to have some great Nicaraguan spice on the pallet and retro-hale. There was also an underlying creaminess that really gave this cigar a unique edge. There also is some nice strength to this cigar – particularly at the end.
There is another blend out of Nicaragua that is targeted post 2013 IPCPR. Rewey also told us that other countries could be on his radar for future blends. Earlier this year, Rewey entered into an agreement with Gary Griffith's Emilio Cigars to handle his distribution.
Here are some of the particulars of the Nomad LE Esteli Lot 1386.
Blend Profile
Like his Dominican core line, Rewey uses an Ecuadorian Habano wrapper over Nicaraguan binder and filler, including tobacco from Esteli.
Wrapper: Ecuadorian Habano
Binder: Nicaraguan
Filler: Nicaraguan
Vitolas Available
The Nomad LE Esteli Lot 1386 will be produced in a single size – a toro.