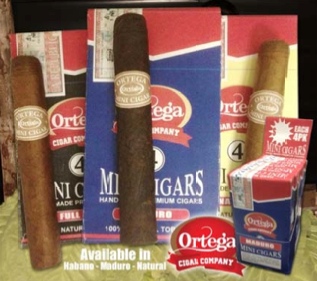 Ortega Premium Cigars has announced they are adding a mini cigar line into their portfolio. The cigar line will be called Ortega Mini Cigars and will launched in three different blends. Information on this launch was provided to a press release to Cigar Coop.
The Minis will launch in three blends – each having a different wrapper option: a natural, a habano, and a maduro. The Ortega Mini Natural is being positioned as a mild-bodied smoke while the Ortega Mini Habano and Maduro are positioned as medium to full-bodied.
In a major change of pace for the company, the Ortega Minis will be made at the PDR Cigars factory in the Dominican Republic. This is the first Ortega line to be made outside of Nicaragua. The other cigars in the Ortega line are made at the My Father Cigar factory in Esteli, Nicaragua.
The cigars will be made in one size, a 4 x 38. The cigars are packaged in crushproof flip-top box. The box is described as either a "first or 'one of very few'" in the cigar industry. According to the recent press release, Ortega Cigars "decided to break away
from the standard boxes and use a slimmed down crushproof flip top box that makes them very easy to carry
and stow away in the average shirt or pants pockets."
Ortega describes the impetus behind the Ortega Minis as follows: "My inspiration for making the Mini's was the lack of a nice and short smoke in my
portfolio, I'm always running around and too often find myself having to relight bigger smokes I've left sitting in
the ashtray and have gone out, I hate relighting good cigars. A 15 to 20 minute smoke is just perfect for a
short drive or a small break at home on the patio."
2013 has shaped up to be a busy year for Ortega Premium Cigars. The company has been launching the monthly limited edition Ortega Wild Bunch 2013 series and it has also recently announced the re-launch of the Cubao line.
Here are the particulars of the line:
Blend Profile
Ortega Mini Natural
Wrapper: Natural
Binder: Not disclosed
Filler: Not disclosed
Ortega Mini Habano
Wrapper: Habano
Binder: Not disclosed
Filler: Not disclosed
Ortega Mini Maduro
Wrapper: Maduro
Binder: Not disclosed
Filler: Not disclosed
Vitolas Available
As mentioned all the Ortega Mini Cigars will come in a 4 x 38 vitola. A four pack will have an SRP of $15.00 or $3.75 per cigar.