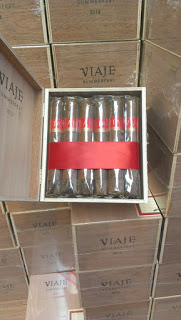 Viaje Summerfest 2013
(Photo from Andre Farkas'
Facebook page)
For the fourth consecutive year, Viaje Cigars will be releasing its Summerfest blend.  Company founder Andre Farkas posted a picture of the new Summerfest blend and the cigar will be a 5 1/2 x 54 Robusto.
The genesis of this cigar release can actually be traced back to a conversation that Leaf and Grape editor Stace Berkland and myself had with Andre Farkas at the 2012 IPCPR Trade Show. During that conversation, we discussed the original release of the 2010 Viaje Summerfest.  The original plan was for the Summerfest 2010 to be released as a torpedo with a shagged foot.  It turns out that a unshagged robusto vitola was made by mistake.  As a result, 50 boxes of that Summerfest 2010 Robusto were released, but the torpedo was still produced. Both Berkland and I were blown away by that particular blend in a Robusto-size vitola.  Farkas listened to our feedback in terms of the robusto .  He then gave us an opportunity to select the size for the 2013 Summerfest.   After some discussion, we agreed on a 5 1/2 x 54 robusto and this one would feature the Summerfest's trademark shagged foot.  Farkas wrote it down on an index card.  About six months later, Farkas contacted us and told us that the Summerfest 2013 was a go in the size selected.
As will all Viaje releases, these are being released in limited production small batches.  If past history is an indicator, this will be the only batch released during 2013.  Yesterday the company announced the return of the Viaje TNT and Viaje C-4, which traditional have been released with the Summerfest.
We scored the Summerfest 2010 Robusto a 94 back in June, 2012.
Blend Profile

Like a good number of Viaje releases, the Summerfest blend is a Nicaraguan puro.  It s highlighted by its Cafe Rosado wrapper:

Wrapper: Nicaraguan Corojo 99 (Cafe Rosado)
Binder: Nicaraguan
Filler: Nicaraguan   

Vitolas Available

For completeness, we list the incarnations of the Summerfest blend since its release in 2010.  All vitolas contain the shagged foot except for the 2010 Robusto.

Summerfest 2010
Robusto: 5 x 50 (Unshagged foot)
Torpedo: 6 1/2 x 50

Summerfest 2011
Torpedo: 5 1/4 x 52
Churchill: 7 x 50

Summerfest 2012
Toro: 6 3/4 x 50
Summerfest 2013
Robusto: 5 1/2 x 54