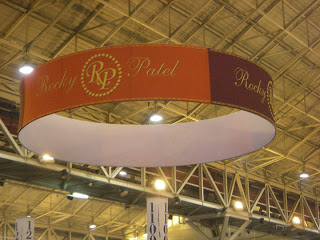 Rocky Patel Premium Cigars will launch six new cigar lines at the 2013 IPCPR Trade Show. The cigars were exclusively announced for the first time by Rocky Patel Premium Cigars' Nimish Desai, Nish Patel, Rocky Patel, and Patrick Vivalo on the 6/11 edition of CigarNews.com.
This marks the second year in a row that the company will launch six new cigar lines. The six cigars being launched at the 2013 IPCPR Trade show are:
1.Rocky Patel Royale: This was actually announced several weeks ago on the Cigar Dave Show. This cigar was conceived back in 2005 and will feature an Ecuadorian Sumatra wrapper in a box-press.
2.Rocky Patel Platinum: This cigar will also be box-pressed and feature a Ecuadorian Habano Oscuro wrapper. It will be made at the company's factory in Nicaragua.
3.Bold by Nish Patel: This is the second cigar under Nish Patel's name joining the Xen by Nish Patel. Nish said this cigar was blended more to his own pallet and describes this as medium to full-bodied. Word of this cigar had be mentioned on both Cigar Dave and Cigar Insider.
4.Rapture by Nimmy D: This is the second cigar under Nimish Desai's name joining the Thunder by Nimish. Desai did not disclose blend details, but said this will be another full-bodied affordable cigar. (* – See Update below)
5.Sheffield Cigar: Baseball great Gary Sheffield will be getting a second cigar under his name joining the HR500. This time it will be a box-press cigar with an Ecuadorian Sumatra wrapper. It will be sold in boxes of ten instead of 20.
6.Ray Lewis Cigar: This has been a long-rumored project and will be a cigar done in collaboration with NFL great Ray Lewis. This cigar's official name was not disclosed. Blend details were also not mentioned, but it will be sold in boxes of 10.
The new cigars will be released this Fall, but it the Rocky Patel Royale is expected to ship in the late summer.
The company also announced that its popular Edge line will be released in a limited edition "A" size vitola. The cigars will be packaged in coffin boxes. There will be 1000 trays of the cigar issued. The "A" will come in the Edge Maduro, Edge Habano, Edge Sumatra, and Edge Sumatra blends. This will be unveiled at the 2013 IPCPR Trade Show.
Finally, the company also announced that another 1000 trays will be made of the Rocky Patel Edicion Unica. That cigar will be also be available at the 2013 IPCPR Trade Show. The Edicion Unica was a limited edition Honduran puro released in 2011.
(*) Update (6/15/13): In a forum thread on halfwheel, it was pointed out that Rapture (by Nimmy D) was the same name as Viva Republica's Rapture cigar. While Rocky Patel cigars has not issued a comment yet, according to a post by Viva Republica, there appear to be plans for Rocky Patel Premium Cigars to change the name.