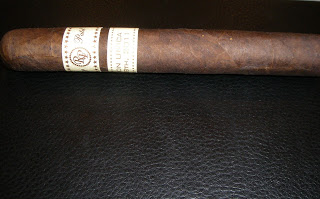 Rocky Patel Edicion Unica
Since IPCPR 2011, I have been stating that there has been a renaissance in terms of Honduran tobacco. It's not that Honduran tobacco has disappeared, but it seems to have made in comeback in terms of being a part of quality blends. Rocky Patel Premium Cigars' recently released a limited edition Honduran puro called the "Rocky Patel Edicion Unica – May 28 2011" (I have no information on the significance of the date). This cigar was declared a winning blend at the 2011 Humo Jaguar cigar festival in Honduras. After smoking the Edicion Unica, I felt it really solidified what I have been saying about Honduran 2011 cigars – they are on the rise. Specifically, the Rocky Patel Edicion Unica is one fabulous cigar.
First up, Rocky Patel is not the first cigar to claim to have won the 2011 Humo Jaguar Cigar Festival. Earlier this year, Miami Cigars announced a winning blend from this same festival called (appropriately) "Humo Jaguar". I'm not going to get into any politics over whether one or both companies lay claim to selling the winning blend. My goal is to break down the cigar and evaluate it. While the blends may be different, it is worth noting that the Rocky Patel Edicion Unica is only available in a toro-sized vitola. The Humo Jaguar is available in three vitolas – none of which are a toro.
The Rocky Patel Edicion Unica marks the fifth major release in 2011 for Rocky Patel Premium Cigars. Let's look at this cigar and see how it compares some of the other blends.
Blend Profile
As mentioned above, the Rocky Patel Edicion Unica is a Honduran puro:
Wrapper: Honduran Jamastran
Binder: Honduran
Filler: Jamastran and Talanga Valley ligero
Vitolas Available
As mentioned, a toro-size vitola will be the only offering in this release. The dimensions are 6 x 52. This will be a limited production run. There will be 500 boxes of 100 produced for a total of 50000 cigars.
Preparation for the Cigar Experience
For my Rocky Patel Edicion Unica, I placed a straight cut into the cap and commenced with the pre-light draw. The dry draw notes were simply outstanding. It provided me a rich coffee flavor with just a hint of spice. This was as good a pre-light draw as I've had on any Rocky Patel cigar. It was now time to fire up the Edicion Unica and see what would come to the table.
Flavor Profile
Once the Rocky Patel Edicion Unica was lit, I was treated to some very rich chocolate notes with a little pepper in the background. About five percent into the cigar experience, I detected some cream notes which meshed very nicely with the chocolate flavors. Shortly after, some classic orange citrus notes emerged – and once they meshed with the chocolate, cream, and pepper – it made for a very interesting flavor.
Toward the end of the first third, the chocolate morphed to more of a classic tea flavor. I'm normally not a fan of the tea notes, but these seemed to go very nicely with the other flavors. I also noticed the citrus notes start to diminish. At the same time, the pepper notes started to increase. By the last third of the cigar, the pepper had morphed to more of an exotic spice. The ligero in the filler was definitely at play in the second half of this smoke. The spice never got overwhelming. The finish was not harsh. While the nub was not hot, it still was on the soft side.
Burn and Draw
When I reviewed the Humo Jaguar, I said (in regards to burn and draw), "I would expect a competition winning cigar to have high scores in this
area – even after it has been sent to a company for distribution." This was the case with the Humo Jaguar, and it certainly was the case with the Rocky Patel Edicion Unica. This cigar provided a razor-sharp butn that burned at an ideal rate and temperature. The corresponding draw was outstanding as well.
Strength and Body
This cigar balances the attributes of strength and body extremely well. The ligero in this cigar helps boost the strength to the upper end of the medium to full range. As for the body, the flavors are rich and deep throughout – making for a textbook case for a full-bodied smoke.
Final Thoughts
Even though this cigar was released right before the deadline of my 2011 Cigar of the Year countdown, I did not get a chance to sample this until after the countdown commenced. As a result, this will not appear on my countdown. It's hard to say where this would wind up, but this is as good a Rocky Patel cigar as I've had. 2011 has been good for Patel and this cigar is right up there with his best work. I'd definitely recommend this to an experienced cigar enthusiast who likes a medium to full strength, full-bodied smoke. I can see some novice cigar enthusiasts looking to go stronger, more fuller liking this cigar as well. This is definitely a cigar I would smoke again.
Summary
Burn: Excellent
Draw: Excellent
Complexity: Medium
Strength: Medium to Full
Body: Full
Assessment: Memorable


Source: The cigars for this assessment were purchased at Up in Smoke in Irving, Texas