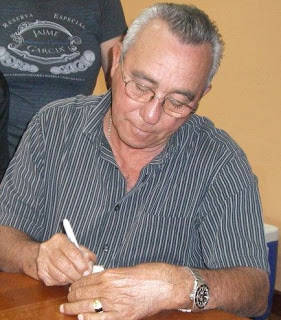 Don Pepin Garcia (Cigar Coop Photo)
Holt's Cigar Company, a retailer based in Philadelphia, Pennsylvania has officially announced the "Lucky Seven" cigars that will make up its limited edition Pepin Mania III Sampler Pack.  This is the third consecutive year that Holt's has released a limited edition sampler pack consisting of cigars made by the Garcia family that have been in a unique, unreleased vitola size.  A couple of weeks ago, we reported that one of the cigars would be a special rounded Short Churchill of the Flor de las Antillas (Cigar Aficionado's #1 Cigar of the Year).  Holt's has now officially announced the other six cigars.
Pepin Mania III marks the third consecutive year the event has been held.  Each year, the event has featured Don Pepin Garcia, Jaime Garcia,  Janny Garcia, and Pete Johnson.   In past year's events, a sampler pack of unreleased cigars in a common size has been made available with a box purchase at the event.  Last year, at Pepin Mania II there were six cigars of size 5 1/2 x 54.  This year, the sampler pack has increased to seven cigars and the size is a rounded 6 1/2 x 48 Short Churchill.
The event will be held on June 13, 2013 at Holt's Northeast Philadelphia store and June 14, 2013 at Holt's Center City Philadelphia store.
Here is an overview of the seven cigars in the sampler pack.  The cigars include Garcia made cigars from My Father Cigars, Tatuaje Cigars, Ashton Cigars, and Holt's House cigars.  As mentioned each of the cigars is a rounded 6 1/2 x 48 Short Churchill.
La Aroma de Cuba Mi Amor Short Churchill
Wrapper: Mexican Cuban Seed
Binder: Nicaraguan
Filler: Nicaragua
Old Henry (Holt's House Exclusive) Short Churchill
Wrapper: Nicaraguan Corojo
Binder: Nicaraguan
Filler: Nicaraguan
San Cristobal Short Churchill
Wrapper: Nicaraguan
Binder: Nicaraguan
Filler: Nicaraguan
Flor de las Antillas Short Churchill(first rounded vitola)
Wrapper: Nicaraguan Sun Grown
Binder: Nicaraguan
Filler: Nicaraguan
My Father Le Bijou 1922 Short Churchill
Wrapper: Nicaraguan Habano Oscuro wrapper
Binder: Nicaraguan
Filler: Nicaraguan
Tatuaje Verocu Short Churchill
Wrapper: Habano Ecuador
Binder: Nicaraguan
Filler: Nicaraguan
Tatuaje HCS (Holt's Exclusive)
Wrapper: Ecuadorian
Binder: Nicaraguan
Filler: Nicaraguan