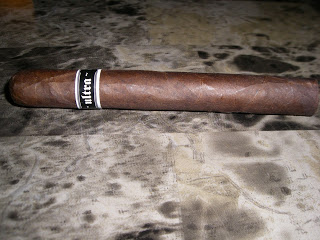 Illusione MKUltra
At the 2013 IPCPR Trade Show, the Illusione MKULTRA, the corona size of Illusione's Ultra line was made available for another limited production run. This is the same cigar that was released (also in a limited production run) back in 2011.
The MKULTRA was the first size released of Illusione's Ultra line. Back in 2006, there were two versions of this cigar floating around – the first official versions of the cigar – MK~ and the MKULTRA. It would be the latter that would be brought back in 2011.
"As with my 88, I sampled a few to you in the forums for review when I was re-working on the blend in '06. I did the same with the mk. There were two versions, the ~MK~ and the MKULTRA. MKULTRA was much stronger than I wanted it to be. I called Paul Palmer which in turn relayed my information to the factory to correct the issue. They have a gold band along with the ~hl~ because they're more of an artisan blend better represented in those particular sizes. They're 20% different than regular illusione black and white bands. As some of you know, I let out my stock of MKULTRAS because I just wasn't pleased with the blend. You guys ate them up! Thanks.


In regards to the origin of the name, this was information originally provided on Illusione's old web-site:
"Project MKULTRA was a government experiment in creating 'zombie soldiers' if you will, through experimentation with LSD and subconscious suggestion when under the influence. MKULTRA was also referred to as the 'teaching machine.' The classic corona size is the teaching machine vitola. It is the perfect vehicle for delivery of flavor, if the blend is right."
A little over a year ago, the remainder of the Ulttra line was introduced in box-press shaped vitolas as a core line. The MKULTRA remains different in that not only is it rounded, but it is limited production. The blend remains one of the most powerful in terms of the strength the cigar delivers.
Blend Profile

Each of the cigars in the Ultra line is an all-Nicaraguan puro.

Wrapper: Nicaraguan Corojo
Binder: Nicaraguan
Filler: Nicaraguan

Vitolas Available

Ultra OP No.1 (Double Corona): 6 3/4 x 56
Ultra OP No. 4 (Robusto): 4 3/4 x 48
Ultra OP No. 9 (Toro): 5 1/2 x 56
MK Ultra (Petit Corona): 5 1/8 x 42