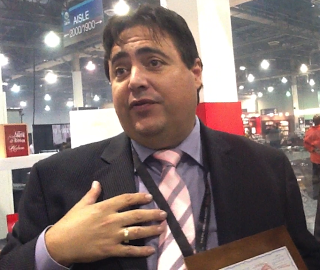 Rafael Nodal – President of Olveros/Boutique Blends
Prior to the 2013 IPCPR Trade Show, we identified Boutique Blends as one of our "Five Spotlight Entities" (companies). Boutique Blends would spinoff the Swag and Aging Room Cigars lines of Oliveros Cigars in 2012 into a subsidiary company. The moved proved to be very successful has those lines have done very well from a commercial and critical success. At the IPCPR Trade Show, Boutique Blends President Rafael Nodal took time to meet with members of the media to talk about the new products being launched. He also took us on a journey for the evolution of Boutique Blends over the past 18 months.
One thing became abundantly clear at the 2013 IPCPR Trade Show – while Boutique Blends was launched as a subsidiary, it is now becoming the core focus for Oliveros. This was reflected in the booth itself – as well as the focus of the new product releases.
This Cigar Conversation is a little different in that it is a general briefing that Nodal had for the media. We have covered this in a three part set of videos. In each of the videos, the passion that Nodal has for what he is doing comes out loud and clear.
Part 1: The Evolution of Boutique Blends
Nodal is very proud of the work he did at Oliveros, but eventually he saw the need to change direction. Nodal then tells us about how the relationship with how Jochy Blanco started out. He also talks about how his son winning a grammy with Lil Wayne played a role int he launch of the Swag blend. Finally he talks about how the Aging Room Cigars brand was born – simply because when they were trying to blend Swag, there were blends that were like that there was not a lot of tobacco available – thus the small batch focus with Aging Room
Nodal also introduces us to the new Aging Room Small Batch M21 FFortisimo. This is a cigar that Nodal refers to as one of the strongest Dominican puros ever be made.
Part 2 Aging Room WildPack and Aging Room Maduro
In this video, Nodal presents an overview of the upcoming Aging Room Cigars WildPack sampler – and how this special limited release will allow consumers to help choose the next Aging Room Cigar blend. Nodal also discusses the Aging Room Small Batch M21 FFortisimo and the upcoming Aging Room Maduro.


Part 3 Aging Room Maduro, Swag S and the Aging Room Minis
In this final part, Nodal finishes up his chat wit us on the Aging Room Maduro. He then takes us though the large ring gauge Swag S and the small sized Aging Room Mini.