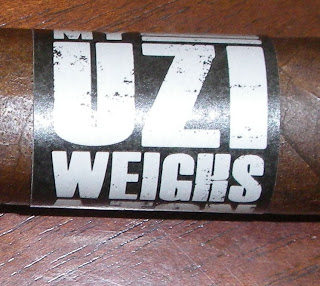 Wholesale distributor Alliance Cigar has announced they have become the exclusive distributor for two new extensions to Drew Estate's My Uzi Weighs a Ton (MUWAT) line These two extensions will the first two non parejo sizes called the My Uzi Weighs a Ton Kemosabe and the My Uzi Weighs a Ton W.O.P.R. Information on this announcement was communicated in the recent summer newsletter of Alliance Cigar. This was a story also first reported by halfwheel.com.
The MUWAT Kemosabe adds a 4 x 60 shaped belicoso into the line while the MUWAT W.O.P.R adds a 6 x 60 double perfecto. These cigars become the eighth and ninth vitolas in the line.
As the exclusive wholesale distributor, Alliance Cigar will make the MUWAT Kemosabe and MUWAT W.O.P.R. available only to brick and mortar retailers
This marks the fourth vitola added to the My Uzi Weighs a Ton line in 2013. Prior to the IPCPR, Drew Estate also announced a 7 x 70 MUWAT would be a new core line offering. In January, the corona-sized MUWAT Digital Son 6 was released as an exclusive to Outland Cigars in Charlotte, North Carolina.
"At a glance", here is a look at the MUWAT line.

Blend Profile

The MUWAT is a cigar in which Drew was involved with the initial blending. It is rolled at the Joya de Nicaragua factory.

Wrapper: San Andreas (Mexico)
Binder: Connecticut shade
Filler: Brazilian Mata Fina, Nicaraguan

Vitolas Available

The blends of the MUWAT line are known to differ from vitola to vitola. Here is the current full list under the MUWAT line.

Kemosabe: 4 x 60 (Belicoso)
W.O.P.R.: 6 x 60 (Double Perfecto)
7 x 70: 7 x 70
+11: 5 1/2 x 52
Bait Fish: 4 x 44
Digital Son 6: 5 x 42 (Outland Cigar Retail Exclusive)
5 x 60: 5 x 60
6 x 60: 6 x 60
7 x 60: 7 x 60