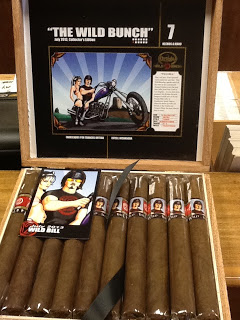 Ortega Wild Bunch 2013 –
Wild Bill Cheroot
(Photo taken at Outland Cigars)
Ortega Premium Cigars has recently shipped their July, 2013 installment of the Ortega Wild Bunch 2013. This is the seventh release in the series and this one is called "Wild Bill".
The concept behind the Ortega Wild Bunch is to dedicate a cigar to various cigar enthusiasts whom company president Eddie Ortega has personally met during his time in the cigar industry. During 2013, each month a different cigar – in a different size and blend will be released as a tribute to these various people. Since January, the company has released a monthly installment. The release of Wild Bill came later in the month compared to the other releases of the Wild Bunch series, but this is most likely because of the 2013 IPCPR Trade Show falling right in the middle of the month.
The vitola of the Wild Bill is known as "Cheroot". The cigar is actually more of a Corona Gorda – measuring 6 x 46. This becomes the thinnest ring gauge to date in the Ortega Wild Bunch 2013 series. This honor may be short lived as it has been reported the August release – "Fast Eddie" will be a lancero.
The inner box cover has been used on this series to describe the character for whom the cigar is dedicated to. The character of Wild Bill has a motorcycle theme:
They call him "Free Spirited" which suits him just fine. This Wild Buncher spends much of his time on his customized chopper hitting every bar and bike rally from New York to Los Angeles. As you may have guessed, his all-time favorite hangout would have to be the Sturgis Bike Rally in Deadwood, South Dakota where he meets up with old friends at Deadwood Tobacco Shop, the best tobacco shop in town.
At a glance, let's take a look at the Ortega Wild Buch 2013 Wild Bill "Cheroot"
Blend Profile
Wrapper: Nicaraguan Habano
Binder: Not disclosed
Filler: Not disclosed
Vitolas Available
As mentioned the Wild Bill "Cheroot" is a 6 x 46 Corona Gorda. The cigars are packaged 20 per box.
At press time, the following are the names confirmed for the first nine months of the Ortega Wild Bunch series. Currently the series looks as follows:
January: Big Bad John "Jackhammer"
February: Iron Mike "I Beam"
March: Island Jim "WaHoo"
April: Tony The Boss "Enforcer"
May: Dandy McCoy "Empire State"
June: Honest Abe "Ringmaster"
July: Wild Bill "Cheroot"
August Fast Eddie
September: Gearhead Gary