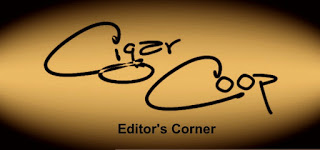 The 2013 IPCPR Trade Show is now in the annuls of history. We'd like to thank the IPCPR for the opportunity to cover this event. We'd also like to thank the many manufacturers who have been generous in sharing information leading up to (as well as at) the trade show. This month's column will focus on various aspects of our experience in covering the show as well as some general thoughts on what we saw.
1. Where all the videos and booth coverage?
We changed approach to how we chose to cover the show these year. Our focus was on the products. This is how we approached it before the show, and we felt the actual trade show was a great way to continue this. We feel this is the most important point of the trade show. Cigar Coop's coverage is meant to be deep and comprehensive. Although we did shoot a small number, we felt that videos were not the best way to accomplish what we wanted. Booth coverage is interesting and there area a lot of sites that did a great job on this, but this really fell outside the scope of what we do. We have done some feature stories around the show – and will continue to do so.
2. Did you get to every booth? How did you decide what booths to go to?
Definitely not. The approach taken was to try to cover the gaps we didn't cover before the show. We also tried to visit the booths with the manufacturers who have been very supportive when it comes to providing news information and press releases prior to the show
3. What were the best cigars you smoked at the show?
We still have many to smoke, but here are some ones that wow'd us thus far (in alphabetical order). We are including some we smoked after the show thus far:
–Casa Miranda Chapter Two by Miami Cigar and Company
–Camacho Corojo (New Blend)
-D'Crossier Imperium
–Davidoff Nicaragua
-Debonaire
–EIROA by Fabricas Unidas
–Emilio Draig Cayuquero
–Espinosa 601 La Bomba Maduro Warhead
–Fratello
–Iconic Leaf Recluse Draconian Sidewinder
–Nat Sherman 1930 Collection (*)
–Raices Cubanas 1941 by Alec Bradley
–Reinado Grand Empire Reserve Petite Lancero and Corona Gorda
(*) Purchased after the show for review
4. What trends did you notice at the show?
There were three:
1.Big Ring Gauges and Minis: The 70 ring gauges were very much present at the show – and I believe are here to stay. We also saw a lot of companies launch mini cigars. This includes: Aging Room Cigars, Dunhill Cigars, Punch Cigars, Partagas Cigars, PDR Cigars, and Ortega Cigars come to mind.
2. Double Binders: While this isn't something new, it seemed like more blends that have come out this year have had double binders. Some that come to mind include: Ezra Zion Eminence, L'Atelier Extension de la Racine ER13 Monte by Montecristo, Bold by Nish Patel, La Jugada Prieto Habano, Alec Bradley Mundial, Villiger 125, and Viva Republic Guerrilla Warfare.
3. Sampler Packs – These seemed more present than in recent years – and not just at General and Altadis. We saw these at Alec Bradley, Boutique Blends, Rocky Patel Premium Cigars, PDR Cigars, and Primer Mundo (although there is still some question on whether the latter two will sell the sampler packs on display).
5. Any other Boutiques?
We do feel our selections for the "Five Boutiques to Watch" lived up to expectations each of the five we talked to, we noticed considerable activity at their booth. There were some new ones to surface and be contenders for next year's honor. In particular Fratello Cigars and Roberto Duran Cigars both generated considerable buzz during the show.