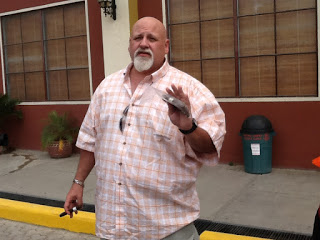 Steve Saka (Cigar Coop Photo)
Former Drew Estate CEO Steve Saka was a guest the August 3rd "The Cigar Authority" radio show. The show marked the first public comments made by Saka since his retirement from Drew Estate was announced on the eve of the 2013 IPCPR Trade Show.
When asked about his retirement, Saka mentioned the travel and wear and tear took its toll on him. "I'll be honest with you. I spent eight years at Drew Estate, it was a really great eight years. We did a lot of wonderful things while I was there, and ultimately I'm from New Hampshire, New Hampshire's home – always has been home. Splitting my time between Central America, I spent a lot of time in the factory in Nicaragua, I spent a lot of going to other places looking at leaf. You know I had my responsibilities in Miami, and I was spending maybe four or five nights a month with my wife, and I was tired, I was worn out. I was just exhausted," Saka told host David Garafolo. He then added, "They (Drew Estate) have no desire to slow down nor should they. But you know, I'm old. I need to slow down a little bit. I need a little bit of time. It's just time."
Saka joined Drew Estate as the company President, and became CEO in July, 2012. During his tenure, Drew Estate grew into a large a and successful cigar manufacturers in the world. When Saka's retirement was announced, there was a mutual agreement between Drew Estate and Saka in which Drew Estate repurchased his interests in the company. Saka also agreed to step away from the cigar and tobacco industry at an operational level for two years.
When asked if he has plans to come back, Saka replied, "I don't know what I'm doing, it's way to early to tell. I got a lot of time I just want to goof off. I want to fish, I want to get back into hunting." He also added, "It's just so premature to talk about what I may or may not do. I do know this, I'm 47 and a friend of mine pointed out the other day this is the fourth time I've retired, so I do have a track record – but you know what, maybe it will change."