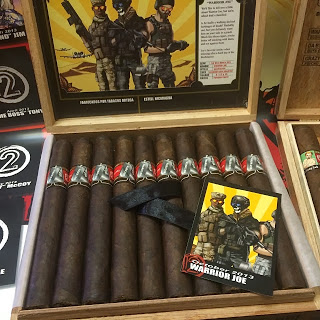 Ortega Wild Bunch 2013 Warrior Joe
(Photo Credit: Eddie Ortega Facebook page)
Ortega Premium Cigars is moving into the home-stretch of its monthly limited edition series, the Ortega Wild Bunch 2013.  Company president Eddie Ortega announced the tenth installment of the series, Warrior Joe is about to ship to retailers.
The concept behind the Ortega Wild Bunch is to dedicate a cigar to various cigar enthusiasts whom Eddie Ortega has personally met during his time in the cigar industry.  During 2013, each month a different cigar – in a different size and blend will be released as a tribute to these various people.   Since January, the company has released a monthly installment.  The Warrior Joe is intended to be the October release. The official vitola name of the Warrior Joe is called "Bushmaster" .  It is a belicoso measuring 6 1/2 x 50 using a dark Ecuadorian Sumatra.  The Warrior Joe ecomes the second Wild Bunch release to use a Sumatra wrapper joining Fast Eddie Eight-Ball.
The inner box cover has been used on this series to describe the character for whom the cigar is dedicated to.  The character of Warrior Joe described as follows:
"We'd like to tell you a little about Warrior Joe, but we're afraid that's classified. Is he really a walking skeletal harbinger of death?  Probably not, but you definitely want him on your side in a pinch.  Much like these cigars, you're better off smoking with them and not against them. Joe's favorite smoke when relaxing after a hard day is the Bushmaster"
At a glance, let's take a look at the Ortega Wild Bunch Warrior Joe Bushmaster:

Blend Profile
Wrapper: Ecuadorian Dark Sumatra
Binder/Filler: Nicaragua Esteli/Jalapa

Vitolas Available
As mentioned the Warrior Joe Bushmaster is a 6 1/2 x 50  The cigars are packaged 20 per box.
The following are the names confirmed for the Ortega Wild Bunch series.
January: Big Bad John "Jackhammer"
February: Iron Mike "I Beam"
March: Island Jim "WaHoo"
April: Tony The Boss "Enforcer"
May: Dandy McCoy "Empire State"
June: Honest Abe "Ringmaster"
July: Wild Bill "Cheroot"
August: Fast Eddie Eight-Ball
September: Gearhead Gary "Crankshaft"
October: Warrior Joe "Bushmaster"
November: Da Byrdman "Boys Club"
December: Crazy Jack "Psycho"