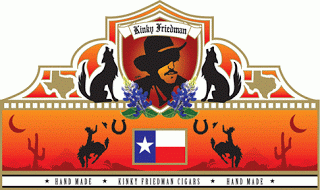 Kinky Friedman Cigars has announced they are ceasing their cigar operations. The announcement came on the company's home page. The company will sell their remaining inventory and plans not to restock their inventory.. While the company said they soon plan to discontinue selling cigars, they will continue to sell non-cigar related merchandise.
Kinky Friedman Cigars was the namesake cigar line for popular singer, songwriter, humorist, author, and politician Kinky Friedman. The cigars named had themes reflective of Friedman's personality. The cigar company was launched in 2006 and the cigars were made by Oliveros.

Several lines made by Kinky Friedman Cigars include the Kinky Friedman Classic, Kinky Friedman Lone Star, the Kinky Lady, and the value-priced Kinkster bundle.
The following is the text that appeared on the company's web-site:
After six and a half incredible, yet hard-fought years, we regret to announce that, when our current limited supply of cigars runs out, Kinky Friedman Cigars will be out of the cigar business.


Over six years ago when we launched Kinky Friedman Cigars, we were enthusiastic and optimistic about the new cigar business, and so, it is with heavy hearts that we lay our last cigar in the ashtray.


We are proud of the business we built and the many friendships we made over the years. We thank our loyal customers, dedicated vendors and the handful of generous mentors who helped guide us through this challenging, historic and one-of-a-kind business.


It's been a genuine pleasure and a privilege to work with you all. We wish you continued success in your endeavors and hope that our paths will cross again.


Our final holiday sale begins this weekend (Nov. 29), and when the remaining cigar inventory has been sold, we will not restock, but will continue to sell non-cigar merchandise. It's a novel idea—a cigar company that doesn't sell cigars. (We like to think we're always ahead of the curve.)


Never ones to lay low, you can find Kinky running for Agriculture Commissioner in Texas and will soon find Little Jewford on stage performing his original solo show.