Assessment Updates will be posted on this web-site to: 1) Assess "pre-review" cigars that were not given a rating or score (typically pre-release cigars); 2) Provide numeric ratings to cigars previously assessed prior to the implementation of the numeric scoring system; 3) A re-assessment and re-score of a previously assessed/score cigars. Today, we provide an assessment rating and score for the RyJ by Romeo y Julieta. This was a cigar we did a pre-release review in October, 2013.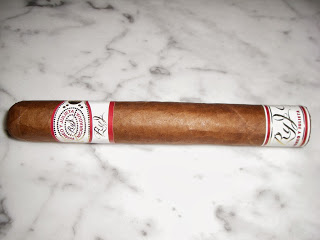 RyJ by Romeo y Julieta
The RyJ is the latest blend to be added to Atladis USA's Romeo y Julieta brand. The RyJ is significant because it marks the first Nicaraguan puro to be added to Romeo y Julieta. The RyJ joins the 2013 edition of the Juan Lopez as two Nicaraguan puros that were added by Altadis USA.
The RyJ features a proprietary Nicaraguan wrapper. The cigar also features a double binder with leaves originating from Esteli and Jalapa. Finally the filler contains tobaccos from Esteli, Jalapa, and La Mia. The RyJ was launched in three sizes: Bully Grande (5 x 54), Toro (6 x 52), and Piramide (6 1/8 x 52). Like we did back in October, today we revisit the RyJ Toro. This cigar has been aging for approximately 45 days since being received.

Like the pre-release, the production release of the RyJ is still going to deliver a mix of cocoa, earth, citrus, and red pepper. On the pre-release sample, I felt the citrus notes had more of an acidic quality as opposed to providing some complementary series. The good news is that the post release RyJs did not have this quality. The bad news is like the pre-release, I still found the RyJ to be rough and somewhat harsh during the last third.
The RyJ has just enough kick to be medium to full strength. The flavors are also medium to full-bodied, but toward the end they do kick up to full strength. The burn and draw were both very good, although there was some occasional loose ash along the way.
Overall, this was a really enjoyable experience for the first 2/3. Some of the harsh notes that happened at the end, weakened my overall impressions of this cigar. It's still a cigar I'd encourage checking one out and see what you think.
Click here
for the pre-release assessment of the RyJ by Romeo y Julieta.
Assessment: 2.5 – Try One
Score: 87
References

Price: $8.50
Source: Samples provided by Manufacturer (*), Purchased
* Some cigars for this assessment update provided by Atladis USA. The samples were received in order to provide feedback. Cigar Coop is appreciative for the samples, but in no way does this influence this write-up.