Note: The Cigar of the Year Countdown will not publish on Wednesday December 25, 2013. There will still be regular daily content to enjoy on that day. The countdown resumes on Thursday December 26th.
"For La Mano Negra, Rodriguez goes back to the Mata Fina wrapper again – and delivers a Mata Fina wrapped cigar like no other I have ever had. La Mano Negra takes things to another level for Lou Rodriguez."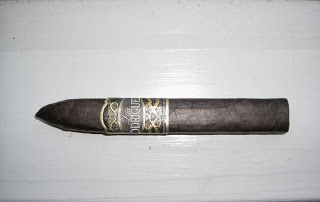 #7 – Lou Rodriguez La Mano Negra
Coming in at #7 on the 2013 Cigar of the Year countdown is the Lou Rodriguez La Mano Negra. La Mano Negra marks the second limited edition cigar for this North Carolina-based cigar-maker.
The La Mano Negra gives Lou Rodriguez their first entry ever on our Cigar of the Year countdown. La Mano Negra continues the theme of "year of the maduro" on this countdown as it becomes the tenth maduro on this year's countdown. It also becomes the second cigar on this year's countdown to use the Brazilian Mata FIna wrapper.

Lou Rodriguez Cigars was founded by a North Carolina doctor Lou Rodriguez. The company is based out of Greenville, North Carolina. Lou Rodriguez Cigars is a true vertically integrated cigar company as they grow their own tobacco, have their own factory, and handle their own distribution. The company has produced some solid cigars. While it's the first cigar by Lou Rodriguez to make the countdown, it's worth noting that we've reviewed every blend the company makes – and none has scored below a 90. They were primed to go to the next level and the La Mano Negra is that cigar.

As mentioned, the La Mano Negra uses a Brazilian Mata Fina wrapper. This is the second time Rodriguez had worked with this wrapper as he also used it on his other limited edition cigar, the Lou Rodriguez MF. Like the MF, the La Mano Negra is also a box-pressed torpedo.
Without a doubt this is the most unique Brazilian Mata Fina I've ever encountered. Not only is it one of the darkest Mata Fina wrappers I've seen, but it delivers one of the most unique flavor profiles from a cigar using this wrapper. I detected notes of red pepper, espresso, dark chocolate, earth, and black cherry. This is also one of the boldest smokes I've ever had with this wrapper. The strength and body both start out medium to full range before both attributes kick up to full by the second third.
With 100 boxes of ten produced only distributed to 13 retailers, this is a true ultra-limited boutique cigar, but one worth tracking down.
Click here for our assessment of the Lou Rodriguez La Mano Negra.

Blend Profile

Wrapper: Brazilian Mata Fina
Binder: Nicaraguan
Filler: Nicaragua
Vitolas Available
La Mano Negra is available in one size – a 6 x 52 box-press torpedo.
Score: 95 (10/27/13)
Assessment Rating: 4.5 – Fight Chuck Norris for Them

For more information on our vision and criteria for the 2013 Cigar of the Year countdown, see our December 2013 Editor's Corner.