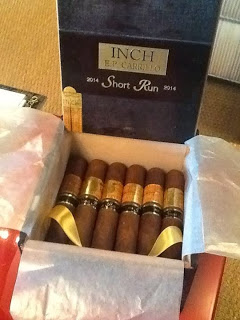 E.P. Carrillo INCH Short Run 2014
(Photo credit – E.P. Carrillo Facebook page)
It appears as though the fifth installment of E.P. Carrillo's Short Run Series will be an extension of the INCH brand. As we noted on the 12/14/13 Cigar Industry Report, photos of the E.P. Carrillo INCH Short Run 2014 appeared on the company's Facebook page.
In a statement on the photo of the Short Run 2014, the company said "2014 INCH Short Run is in the house…smoked great, loved the taste and smooth draw. Their aging to perfection and ready in Q1. 3 big sizes…the INCH family has expanded."
This is not the first time the Short Run line has extended from a brand. In 2012, the E.P. Carrillo NWC Short Run 2012 was a brand extension of the NWC (New Wave Connecticut brand). The Short Run 2012 turned out to be a different blend completely from the core NWC brand.

Other than the details of the 3 sizes, the company has not disclosed specifics of the vitola dimensions or blend. The INCH line is geared toward larger (60+ ring gauge) sizes. The INCH is offered in both Natural and Maduro options, but there is no word on what the INCH Short Run 2014 will be.