"Overall, this cigar is one of the better limited releases by Davidoff and it shows that Davidoff can produce a truly outstanding cigar in a big ring gauge. "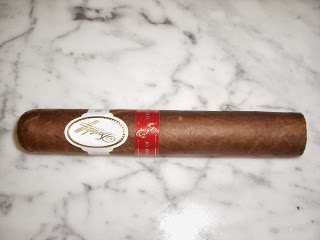 #17 – Davidoff 2014 Year of the Horse
Coming in at #17 on the 2013 Cigar of the Year countdown is the Davidoff 2014 Year of the Horse. This is the second installment in Davidoff's limited edition line (only 5,000 boxes of nine produced) that pays homage to the Chinese zodiac.
After five years, this becomes the first Davidoff branded cigar to make the Cigar of the Year Countdown. Not only does this become the first cigar with a Dominican wrapper to make this year's countdown, but it becomes the first Dominican puro in this year's countdown. It also becomes the third puro overall this year to make the list.

The Davidoff Year of the Horse was a very late entry into the countdown. The cigar was released in the late part of November, and just got into the countdown before the Thanksgiving, 2013 deadline. It made that much of an impact to this year's list. Given it is a "Year of the Horse", it pays homage to the year 2014 – which in the chinese zodiac is the year of the horse.
The Year of the Horse uses Davidoff's proprietary Yamasa region wrapper – which has been seen on several releases by the company over the past year. It also is the first 60 ring gauge cigar to be released under the Davidoff brand umbrella. This cigar is an absolute flavor bomb. The cigar starts out with a blast of sweetness that almost reminds me of cherry-flavored hard candy. It then settles into notes of cherry, natural tobacco, pepper, earth, hay, and baker's spice. It actually gets very "Davdoff-like" later in the first third. The flavors are full-bodied. This cigar has a little more kick than most Davidoffs as it is medium to full strength.
It has a $31.00 price point, and while this may be very steep on the pocketbook (thus why a Box Split), it delivers an awesome experience.
Click here for our assessment of the Davidoff 2014 Year of the Horse.

Blend Profile

Wrapper : Yamasa
Binder: San Vicente
Filler: Olor Seco, San Vicente Ligero, Piloto Viso, Hybrid Seco.

Vitolas Available

As mentioned the Davidoff 2014 Year of the Horse is a 6 x 60 vitola.
Score: 93 (12/2/13) (*)
Assessment Rating: 3.5 – Box Split
(*) Note while assessment was published past the Thanksgiving, 2013 deadline, the cigar was smoked before that deadline and was still eligible for the countdown.

For more information on our vision and criteria for the 2013 Cigar of the Year countdown, see our December 2013 Editor's Corner.