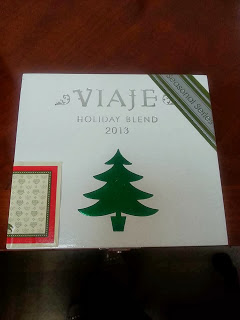 The Viaje Holiday Blend 2013 will not be released this year. Meanwhile the company is planning something new for its December seasonal release called the Viaje Holiday Blend Christmas Tree. Information on this announcement was made on the company President Andre Farkas' Facebook page.
In a statement by Farkas on Facebook, "Unfortunately production delays have made it impossible to release HOLIDAY BLEND this year. However, we will have something new for you to enjoy. HOLIDAY BLEND CHRISTMAS TREES are on their way………."
Farkas told Cigar Coop in terms of skipping the Viaje Holiday Blend 2013, " If I can't release for the holidays I don't release."

As for the Viaje Christmas Tree, Farkas said on the 12/7/13 edition of Kiss My Ash Radio that the cigar would be a short, stout torpedo measuring 4 x 60. Each cigar will be packaged in foil.
Last year, Viaje released its Viaje Holiday Blend 2012, but also made another special seasonal release called the Viaje Holiday Blend Candy Cane 2012. Farkas had mentioned several weeks ago, the Candy Cane would not be released for 2013.
Update 12/9/13: Updated Viaje Christmas Tree info on size. as per Farkas' appearance on Kiss My Ash Radio.