Assessment Updates will be posted on this web-site to: 1) Assess "pre-review" cigars that were not given a rating or score (typically pre-release cigars); 2) Provide numeric ratings to cigars previously assessed prior to the implementation of the numeric scoring system; 3) Provide a re-assessment and re-score of previously assessed/score cigars. Today we look at the 1502 Emerald in a box-press perfecto. This was a cigar we assessed back in November, 2012 in a box-press toro.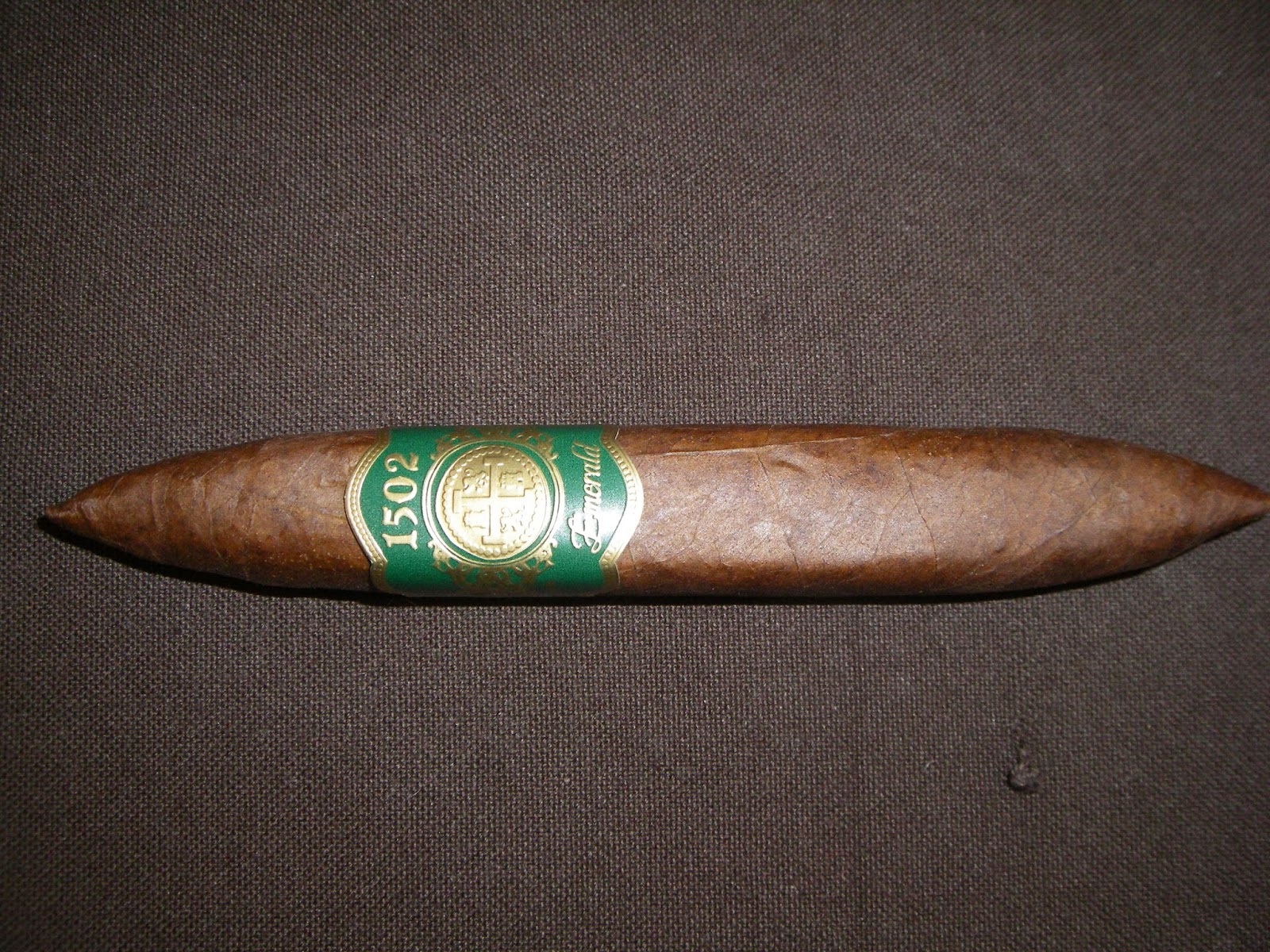 1502 Emerald Perfecto (1502 Lounge Exclusive)
The 1502 Emerald is one of three core lines currently produced by Global Premium Cigars. Global Premium Cigars founded by Enrique Sanchez Icaza. The company is based in Nicaragua and focuses on primarily Nicaraguan-based blends. The 1502 is positioned as the company's premium line and gets its name from the year that Christopher Columbus first landed in Nicaragua. Global Premium Cigars has been one of the red hot brands under the House of Emilio umbrella. Today we revisit this cigar, but this time in a box-press perfecto.

The box-press perfecto is a size that is exclusive to the those cigar retailers that have a 1502 lounge. It is available in the three core line blends – 1502 Emerald, 1502 Ruby, and 1502 Black Gold. Today we look at the 1502 Emerald box-press perfecto.
The details of the blend components are high level. According to the 1502 web-site, the Emerald contains "Corojo Habano de Nicaragua, long fillers from San Andres – Mexico and fields from Esteli and Condega in Nicaragua." As for the perfecto, it is about in the 6 x 50 range with a closed tips and the head and footer of the cigar.
Usually when I put a perfecto up against a parejo, I will usually choose the parejo every time. However, the 1502 Emerald is an outstanding blend in the box-pressed perfecto format. There are some parallels to the toro's profile. The flavor profile delivers notes of natural tobacco, earth, cedar, and pepper. The parejo had some chocolate notes, but I did find less of this flavor in the perfecto. This still does not take away anything during the cigar experience. The flavors have some nice depth to them – and I classified it as full-bodied. There is a subtle strength to this cigar – and I found it have just enough strength to qualify as medium to full strength.
The construction of this cigar is stellar. The burn and draw could not be better in the perfecto format.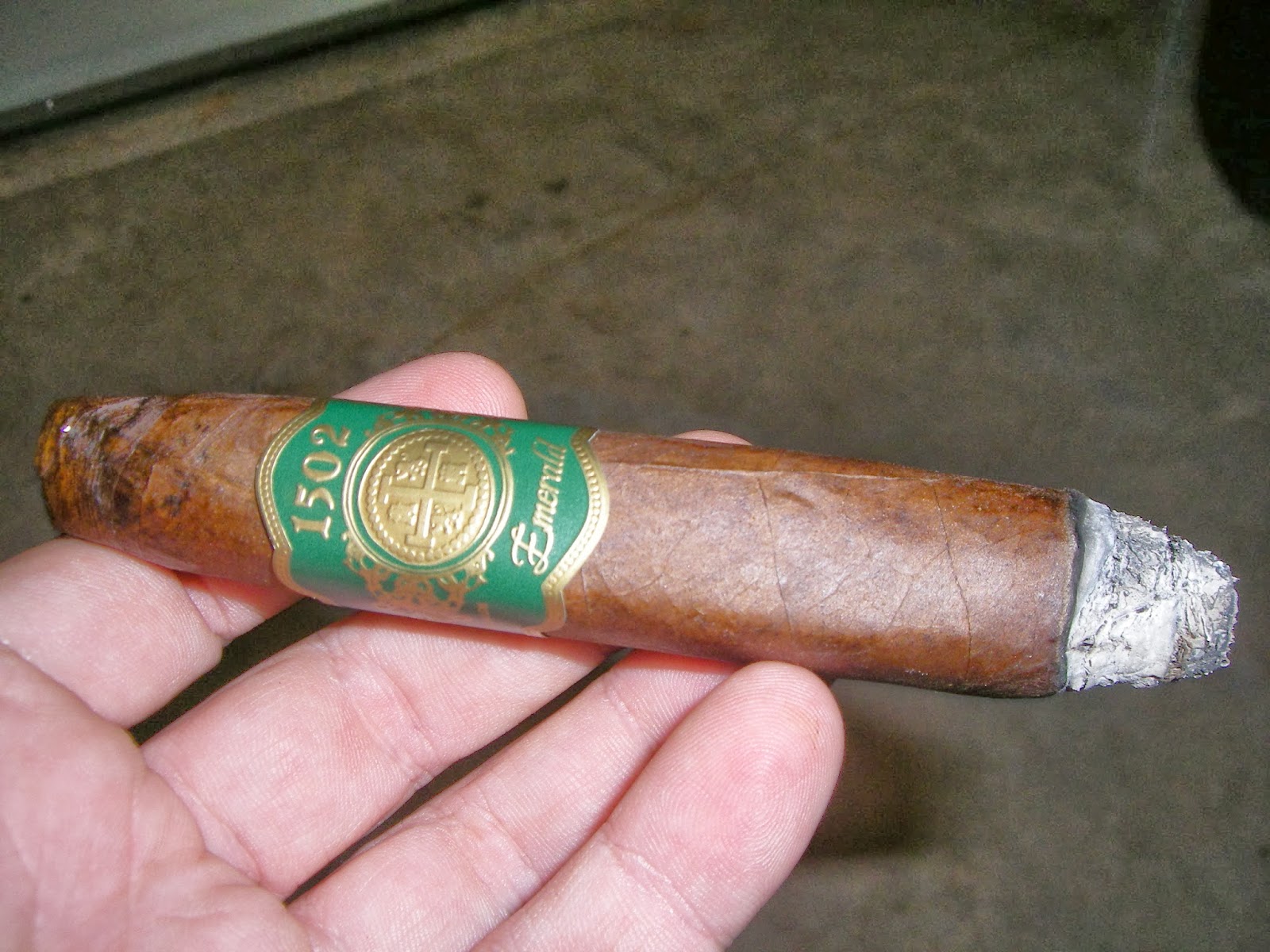 Burn of the 1502 Emerald Perfecto
Overall, this cigar is a winner. Perfecto fans will really enjoy this cigar. If you come across a 1502 lounge, definitely check out this cigar.
Click here for our assessment of the 1502 Emerald in the box-press toro size.
Summary
Burn: Excellent
Draw: Excellent
Complexity: Medium
Strength: Medium to Full
Body: Medium to Full
Finish: Excellent
Assessment: 3.5 – Box Split
Score: 91
References

Price: n/a
Source: Sample Provided by Manufacturer (*)
Stogie Geeks Podcast: n/a
Stogie Feed: n/a
* The cigar for this Assessment Update was provided by Global Premium Cigars. The samples were received in order to provide feedback. Cigar Coop is appreciative for the samples, but in no way does this influence this write-up.