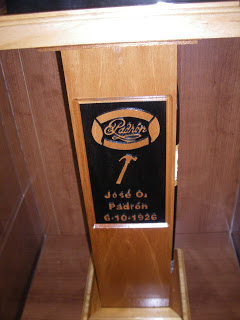 It has been well known that 2014 would be a special year for Padron Cigars as it marks 50 years since Jose O. Padron started the company. Company president Jorge Padron has said several times there will be some special things coming out for the company's 50th anniversary. Last month, one of these items, the Padron Puros Gold was mentioned in the Robb Report.
The release of the Puros Gold will mark the first release since 2011's Family Reserve 85th by Padron Cigars. The Family Reserve series has been on hiatus since then, but it is anticipated the company will also release a Family Reserve in 2014 to commemorate the 50th anniversary.
The report says that the Puros Gold cigars will be contained in what is a limited number of "handcrafted humidors". Each humidor will contain 50 cigars.

The blend details have not been disclosed – other than that the cigar will be a Nicaraguan puro (par for the course with Padron). As for the shape, all that is mentioned is that it will be an "exclusive" new shape.
In addition, the article goes on to mention some accessories will be released to mark the occasion.