Assessment Updates will be posted on this web-site to: 1) Assess "pre-review" cigars that were not given a rating or score (typically pre-release cigars); 2) Provide numeric ratings to cigars previously assessed prior to the implementation of the numeric scoring system; 3) Provide a re-assessment and re-score of a previously assessed/score cigars. Today, we provide an assessment rating and score to the Asylum 13 Ogre in the newly released Robusto size. This was a cigar we did an assessment for in the 7 x 70 frontmark back in March, 2013.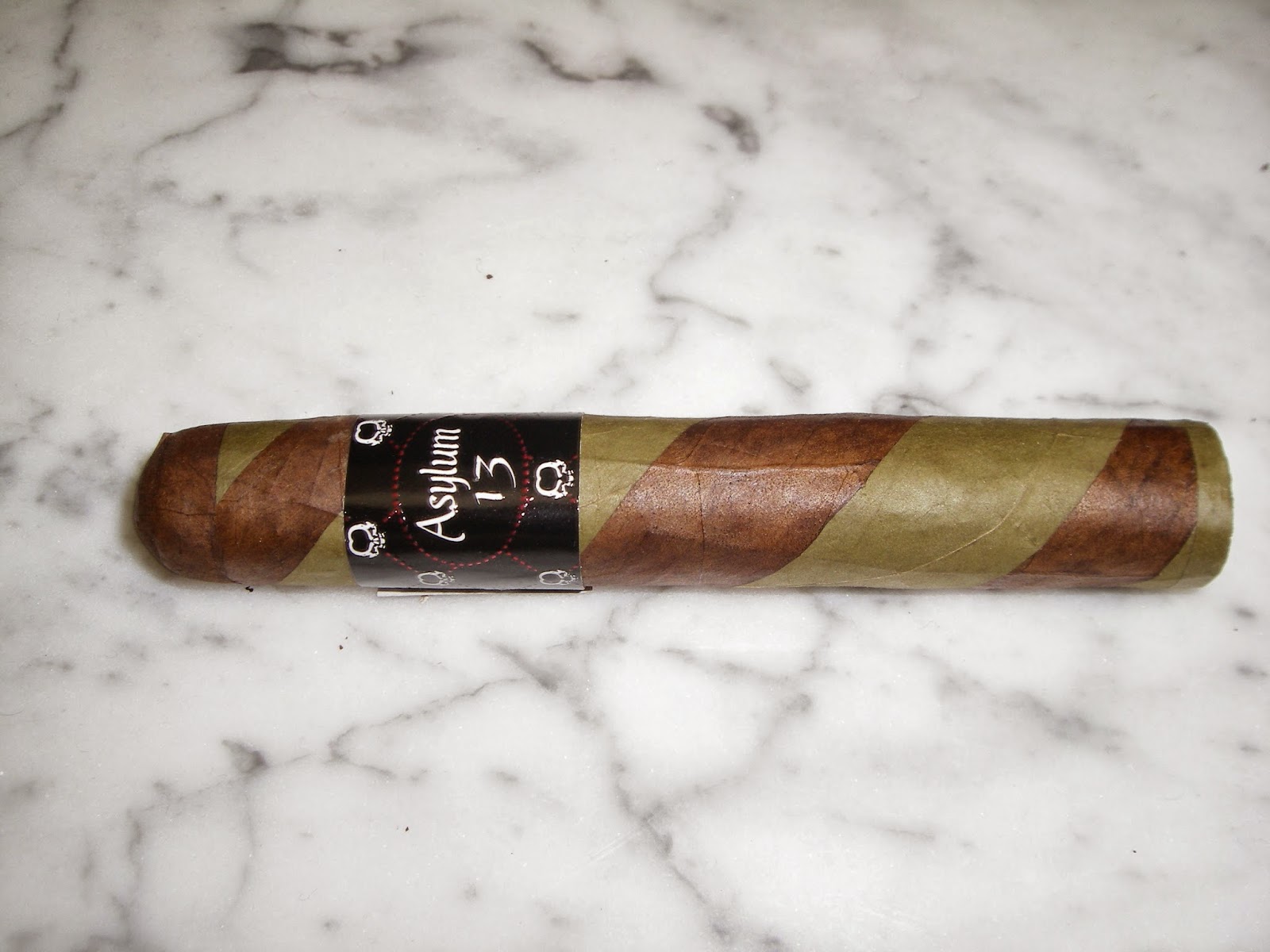 Asylum 13 Ogre Robusto (5 x 50)
A little over a year ago, Asylum Cigars introduced a extension to its Asylum 13 line called the Asylum 13 Ogre. This cigar had two distinguishing characteristics. First, it was released in a 7 x 70 frontmark – something Asylum has become known for. Secondly, and most importantly it was a barber pole wrapped cigar that featured candela and habano wrapper. The Asylum 13 Ogre soon became one of the most successful lines under Asylum. Therefore, it made sense to extend the line. Just this past month it was announced a 6 x 60, 6 x 80, and 5 x 50 vitola would be added to the Asylum 13 Ogre line. Today we take a look at the 5 x 50 robusto.

In addition to featuring a candela and habano on the wrapper, the Asylum 13 uses Nicaraguan tobacco for the binder and filler. The Asylum 13 Robusto produced notes of chocolate, earth, grass, cream, and pepper. This was a very similar pattern to what I detected on the 7 x 70. The robusto format definitely seemed to emphasize the candela wrapper more as the grass and cream notes were more prominent on this cigar than the 7 x 70.
I also found this cigar dialed back in terms of body and strength compared to the 7 x 70. The robusto pretty much stayed a medium-bodied cigar from start to finish. The strength starts out mild to medium before hitting medium strength by the second third.
Most notably, the Ogre Robusto performed a lot better burn-wise than my prior experiences with the 7 x 70. The 5 x 50 had an excellent burn and excellent draw.
Click here for our prior assessment of the Asylum 13 Ogre 7 x 70. Note – we scored the 5 x 50 the same, but scoring has changed for 2014.
Summary

Burn: Excellent
Draw: Excellent
Complexity: Medium
Strength: Mild to Medium (1st Third), Medium
Body: Medium
Finish: Good
Assessment: 3.0 – The Fiver
Score: 89

References

Price: $6.30
Source: Gifted
Stogie Geeks Podcast: n/a
Stogie Feed: n/a