Assessment Updates will be posted on this web-site to: 1) Assess "pre-review" cigars that were not given a rating or score (typically pre-release cigars); 2) Provide numeric ratings to cigars previously assessed prior to the implementation of the numeric scoring system; 3) Provide a re-assessment and re-score of a previously assessed/score cigars. Today, we provide an assessment rating and score to the George Rico S.T.K. Miami American Puro by Gran Habano in the Toro Grande size. This was a cigar we did a pre-release assessment for in the Robusto format back in August, 2013.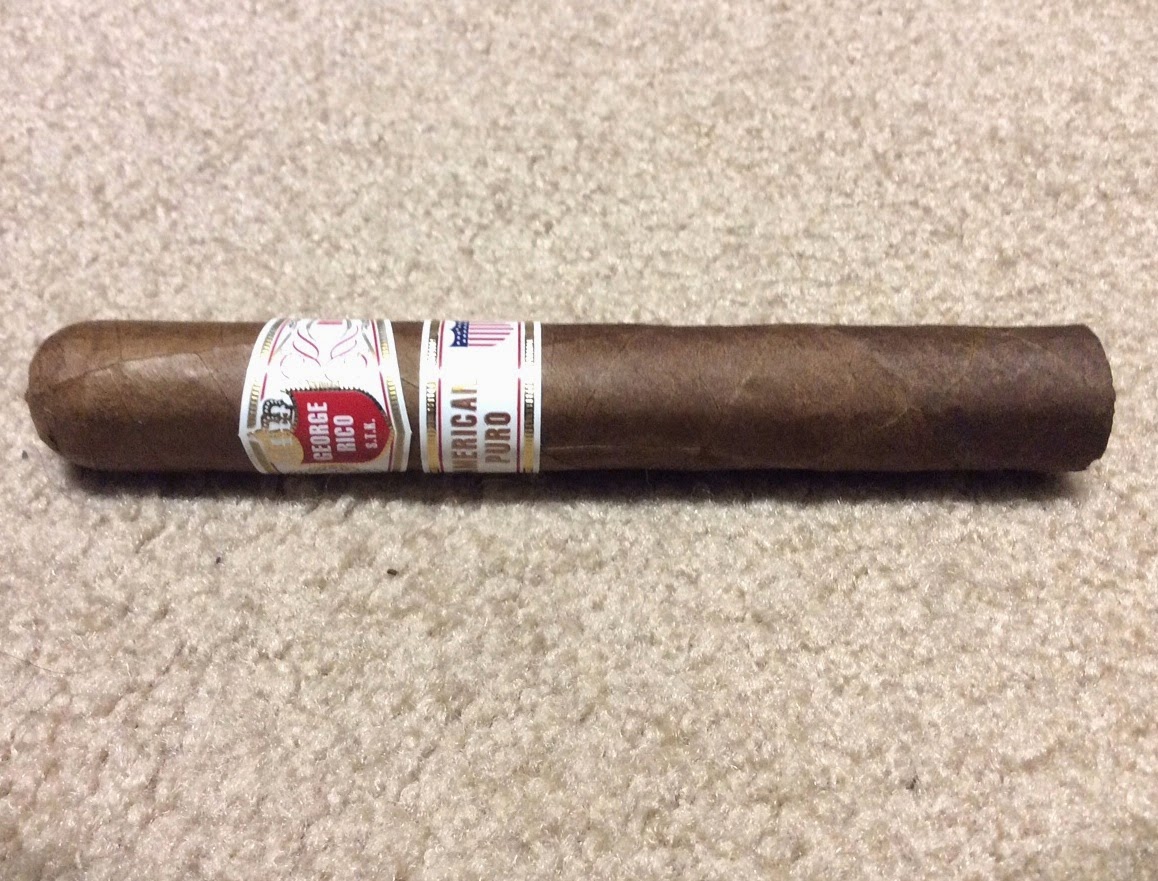 George Rico S.T.K. Miami American Puro Toro Grande
The George Rico S.T.K. Miami American Puro is special for two reasons. First it is a tobacco that uses a 100 percent American-grown tobacco – and is made at the G.R. Tabacaleras factory located in on Calle Ocho in the Little Havana district of Miami, Florida. Second, the American Puro is leveraging some fire-cured tobacco in the blend – a "buzz" that was seen in at least three major releases over the past year. My initial reaction to the American Puro was positive when I smoked a pre-release Robusto. In this assessment update, I revisit this blend in the Toro Grande. Now with some age, this cigar is smoking even better.

The American Puro contains tobaccos from three countries. First it contains Connecticut Habano for both the wrapper and binder. The filler is a mix of tobaccos from Connecticut, Pennsylvania, and Kentucky. It is the leaf from Kentucky that is fire-cured. The American Puro is available in three sizes: Robusto (4 3/4 x 52); Corona Gorda (5 5/8 x 46); and Toro Grande (5 7/8 x 54).
The big difference is this time, the cigar had more of a true bbq taste to it. The pre-release version had more of a smoky campfire note that was more on the woody side. Now the smoky flavors seemed to mesh with the pepper spices. The cigar also had a nice natural tobacco flavor. The campfire and citrus notes that were not he pre-release were gone – a sign that the cigar has aged nicely in my book. Both the strength and body were in the medium to full range. The burn and draw were outstanding.
Overall this is definitely a cigar I'd smoke again – and I'd invest in a fiver.
Summary

Burn: Excellent
Draw: Excellent
Complexity: Medium
Strength: Medium to Full
Body: Medium to Full
Finish: Excellent
Assessment: 3.0 – The Fiver
Score: 90
References
Pre-Review: George Rico S.T.K. Miami American Puro by Gran Habano Cigars
News: George Rico S.T.K. Miami American Puro to Feature Fire-Cured Tobacco
Price: $9.50
Source: Purchased
Stogie Geeks Podcast: n/a
Stogie Feed: n/a