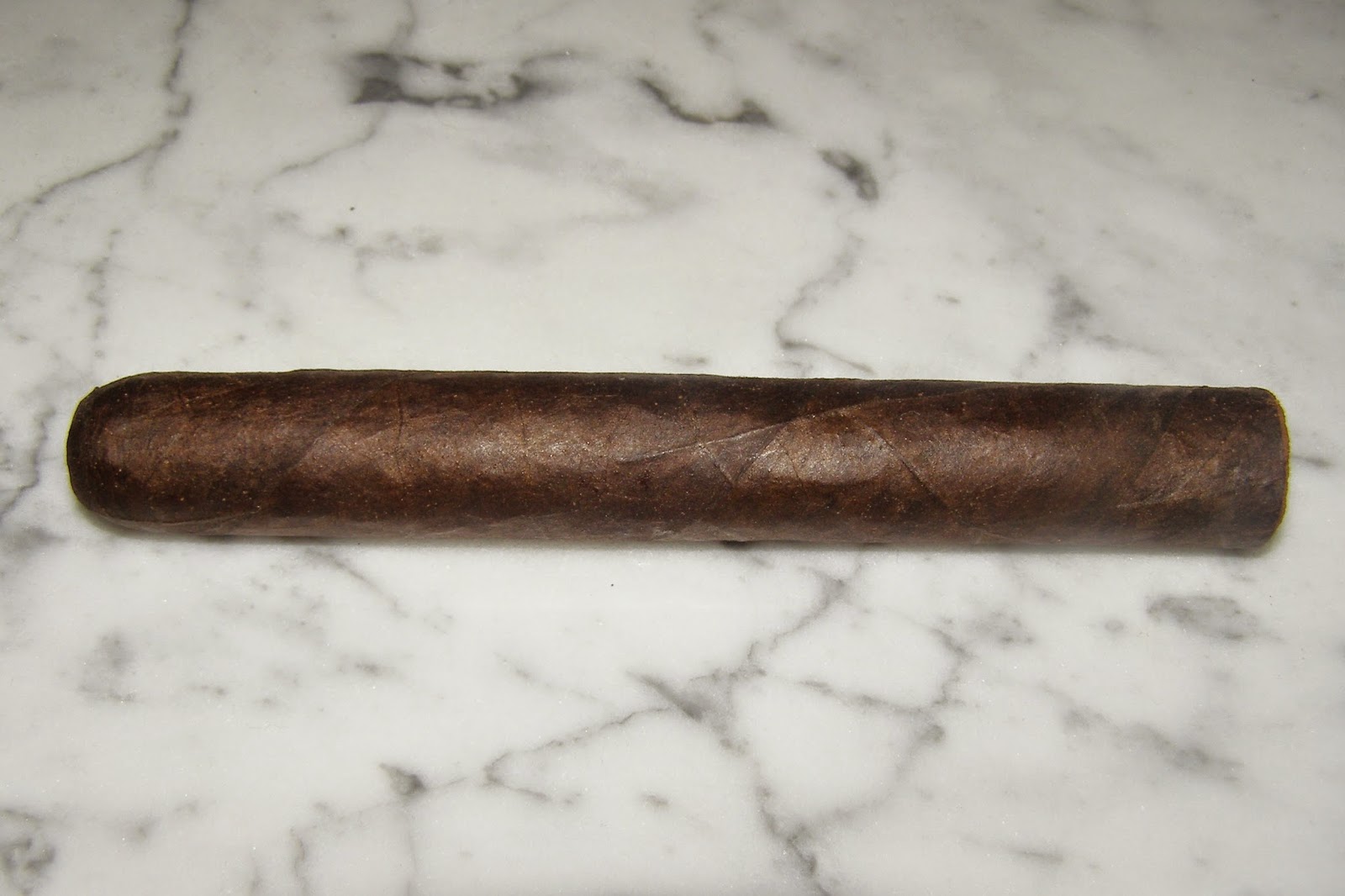 Carpe Noctem by Emilio Cigars (Pre-Release)
If you are a fan of Emilio Cigars, you probably have heard mention of the Carpe Noctem project. This has been a cigar that has been in the Emilio Cigars' pipeline for about two years. Back in 2011, one can make a case that Emilio Cigars was the "Rookie of the Year" in the cigar industry. The Emilio AF-1, Emilio AF-2, and Grimalkin releases were all well received – and also highly ranked on Cigar Coop. The AF-1 and AF-2 projects were done in collaboration with A.J. Fernandez Cigars. With success from A.J. Fernandez, Emilio fans were excited with more projects in the works. The Emilio AF-Suave and Carpe Noctem were those next A.J. Fernandez projects. While the AF-Suave offered a milder, smoother offering, Carpe Noctem promised to be the opposite – bold and spicy. While the AF-Suave was released in 2012, the Carpe Noctem was delayed. Now along with the Mia Dora (another collaboration with A.J. Fernandez Cigars announced last year), this cigar appears poised to finally make it to retailer shelves. I recently had an opportunity to smoke Carpe Noctem. This was a cigar I was very anxious to smoke – and my patience paid off. This one has all of the makings of becoming one of Emilio's best.

Last month, Emilio Cigars' Brand Developer Gary Griffith was our special guest on Stogie Geeks. Griffith explained the reasons for this delay. Much of this was due to a move and consolidation going on at the A.J. Fernandez factory in Esteli, Nicaragua. Griffith did not want to create a logistical challenge to get his cigar out, so he opted to hold off on production. Plans are now for a launch around the 2014 IPCPR timeframe.
"Carpe Noctem" is Latin for "seize the night". From it's dark wrapper, it's an appropriate name. Griffith has dropped some hints over the past two years on what this project is. He had previously described this as a "incredibly dark, strong, and spicy cigar".
Let's take a closer look at this cigar and see what the Carpe Noctem brings to the table. Since this is a pre-release sample, I will default to our pre-review format to share my thoughts. Once this cigar hits retailer shelves, I will revisit this cigar and provide an assessment rating and score. One other disclaimer, this cigar pre-review is based on a single cigar experience.
Blend Profile
It's been known for sometime this would be a Broadleaf release. The specific Broadleaf leaf used is a Pennsylvania grown one. This is something the A.J. Fernandez factory has been well known to work with.
Wrapper: Pennsylvania Broadleaf
Binder: Nicaraguan
Filler: Nicaraguan
Vitolas Available
Griffith told me Carpe Noctem will be released in 21 count boxes and available in three sizes:
Robusto
Toro
6 1/2 x 60
Appearance
For this cigar experience, I smoked the toro size of the Carpe Noctem. As mentioned above, this wrapper lives up to being a dark broadleaf. It has a rich roasted espresso color. While it is dark, you can still see some even darker marbling on the surface of the wrapper. The complexion to this wrapper was somewhat oily. The dark color did a nice job at hiding the wrapper seams. There are a few visible veins that can be seen, but overall I'd still say the wrapper's surface is smooth.
The pre-release sample we received was unbanded. Last month on Stogie Geeks, Griffith had told us packaging was still in the works. Without the band, the cigar still had an impressive look, so I'm curious to see the contrast of the band.
Preparation for the Cigar Experience
Prior to lighting up the Carpe Noctem, I went with my usual choice of a straight cut to remove the cap. After clipping the cap, I moved on to the pre-light draw ritual. The dry draw was impressive out of the gate – I detected notes of chocolate, mocha, and a slight floral spice. Overall I considered this pre-light experience to be excellent. At this point I was ready to light up the Carpe Noctem and see what the overall smoking experience had in store.
Flavor Profile
The start to the Carpe Noctem kicked off with mocha flavors. A lot of times, I use this term as a "catch all" to be a combination of coffee, chocolate, and earth all rolled into one. I also picked up what I call an Emilio signature herbal spice.I definitely got spice on the retro-hale, but it was a little more of a classic pepper. Finally there were some background nut notes These flavors held throughout the first half – varying slightly in intensity.
Around the midpoint, I did pick up a citrus note. This citrus note had a slight sour quality to it that seemed to exhibit there was still a little youngness to be shaken off. This was very much a minor point and I would infer that in a few weeks, this would probably not even be a factor.
While the mocha slanted more toward a chocolate flavor in the first half, it slanted a little more toward a earthy quality in the second half. The spice now evolved into a more traditional pepper flavor. I also detected some grass notes that varied in intensity.
The final stages of the cigar saw the spice kick it up a notch and become the primary flavor. The cigar never exhibited any harshness. The end of the cigar was flavorful – and the resulting nub was cool in temperature and firm to the touch.
Burn and Draw
I found the Carpe Noctem to be a well-constructed cigar and this was reflected on both the burn and draw attributes. The Carpe Noctem was a low maintenance cigar to keep burning straight – requiring minimal touch-ups along the way. The ash was on the firm side. It had a nice white color with some darker speckling mixed in. The burn rate and burn temperature were ideal.
The draw also performed very nicely. Puffing on the Carpe Noctem produced a lot of thick smoke. This wasn't a tight draw, but it wasn't a loose on either. While the Carpe Noctem produced ample some production, it wasn't because the draw was loose.
Strength and Body
This cigar lived up as advertised. It had plenty of strength, and while it had plenty of spice, the rest of the flavors had depth. I assessed this to be a full strength and full-bodied cigar from start to finish. The strength and body did not assault the pallet. At the same time, I found the strength and body to counter each other nicely – creating a nice a balance between the two attributes.
Final Thoughts
While this was only a single cigar I smoked for this pre-release assessment, it left an extremely favorable experience. I loved the flavors, it had some great construction, and it offered a nice full strength, full-bodied experience. This is a cigar that delivers plenty of spice, but at the same time it offers other flavors to satisfy. As I mentioned despite the fact I got a few sour notes along the way, this isn't a young cigar. At the same time I'm curious to see what some time will do to this blend. It's a cigar that can satisfy now and my gut tells me there is still plenty of good things to come. Finally while I normally prefer Connecticut Broadleaf wrapper cigars to Pennsylvania Broadleaf wrapper cigars, this Pennsylvania Broadleaf truly held its own.
This is a cigar that I'd recommend to a more experienced cigar enthusiast who likes a very full cigar with plenty of spice. As for myself, Carpe Noctem is a very impressive cigar. This is certainly a cigar I'd smoke again.
Summary
Burn: Excellent
Draw: Excellent
Complexity: Medium
Strength: Full
Body: Full
Finish: Excellent
References
Feature Story: Gary Griffith Talks Future Plans of Emilio Cigars
Price: n/a
Source: Sample provided by Manufacturer
Stogie Geeks Podcast: Episode 91
Stogie Feed: n/a