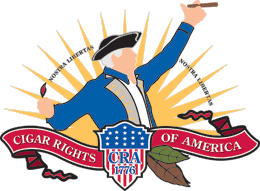 Jeff Borysiewicz has informed the Board of Directors of Cigar Rights of America has resigned as Chairman of the Board.
Borysiewicz is the owner of Corona Cigar Company, which consists of three large retail stores in the Orlando, Florida area and a mail order business. He is also a partner in Sindicato Cigars and now is growing tobacco on a farm in Florida. He was the co-founder of the Cigar Rights of America back in 2008.

Glynn Loope, Executive Director of Cigar Rights of America commented on the 5/31/14 edition of Kiss My Ash Radio by saying "He was an incredible leader for this organization and this entire industry. He is certainly a part of the process."
Borysiewicz was also the author of the White House petition to stop the FDA from regulating premium cigars.
"We would not be discussing a premium exemption (to FDA regulations if it were not for Jeff Borysiewicz," added Loope, "he has been the spiritual leader of this legislative effort in Congress."